March 24th, 2015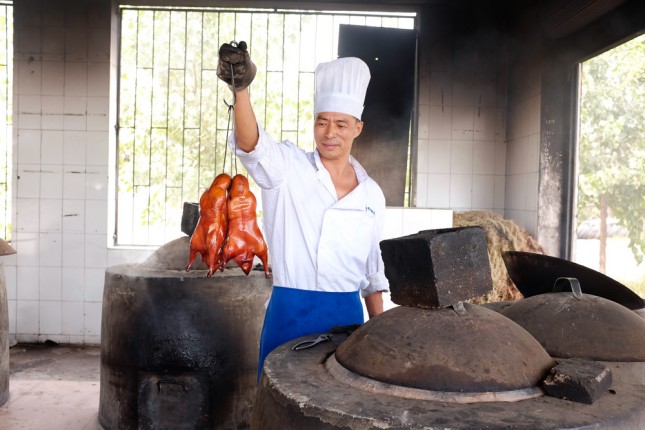 "Even Sun Yat-Sen had high praise for Yiliang roast duck," our guide, Steven, told us. We were about 90 minutes outside of Kunming, headed west toward the Stone Forest, and we had stopped for lunch in the town of Yiliang (宜良) to try another of Yunnan's famous dishes. The town itself was quite rural, just a few dusty roads in the middle of farmland, but Xue Cheng Restaurant (学成饭店) was the kind of large, elegant place you might find in Chengdu or Beijing. Three stories of cavernous dining rooms were filled with linen-draped tables and upholstered chairs and tended to by a small army of well-dressed waiters and hostesses. It was one in the afternoon, which is quite late for lunch by Chinese standards, but the restaurant was still packed with families. "People drive out from Kunming just for lunch," Steven explained. "Usually it's hard to get a table."
The history of Yiliang roast duck reportedly goes back to the Qing Dynasty, when a restauranteur named Zhang Wen went to Beijing and learned how to make Beijing-style roast duck. When he returned to Yiliang, he opened a restaurant using his own adaptation of the Beijing method to roast the area's small local ducks, and the result was wildly popular. These days Yiliang has over 1,000 duck farms, and there are at least six restaurants in Kunming that specialize in the dish.
Yiliang's roast duck differs from Beijing's in a few key ways. The ducks are roasted in closed clay ovens, instead of next to an open flame, and pine needles are added to give the meat a heady fragrance. At Xue Cheng Restaurant, the ovens are located outside, in a separate tile-walled building where a handful of chefs tend a dozen ovens, adding long twists of pine needles and keeping the heat at exactly the right temperature until the ducks are roasted to perfection.
Once finished, the ducks are cut into bone-in pieces and served with plum sauce and a blend of pepper and salt to dip them into. (Unlike Beijing duck, Yiliang duck is meant to be eaten on its own, without pancakes or buns.) Thick pieces of spicy white scallion, eaten alongside the duck, provide a bright contrast to the fowl's fattiness.
The restaurant also offers a wide variety of other dishes—like tender rolled rice noodles in a sweet vinegar sauce and squash stir-fried with Yunnan ham—to fill out the meal. It was all delicious, a meal I would be happy to drive an hour and a half from Kunming to have again.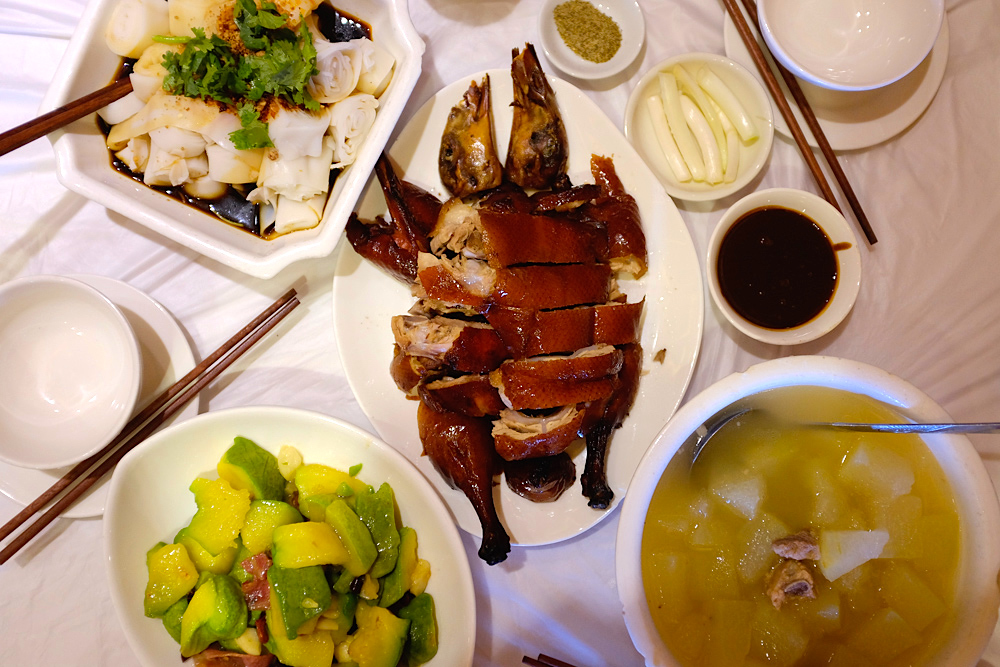 Photos: Josh Wand (4)
✺