May 14th, 2015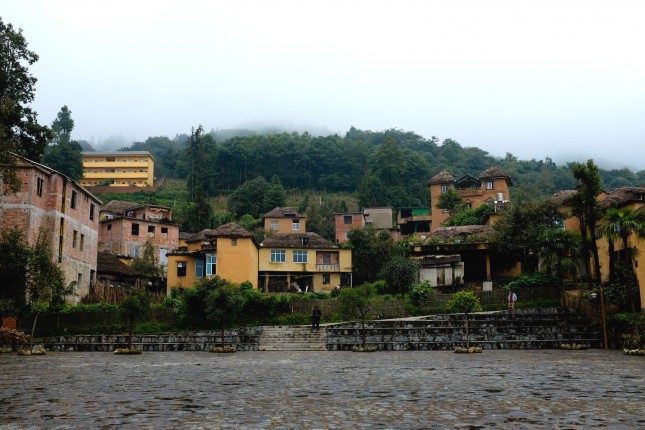 Yuanyang consists of a large "new town" (Nansha) and "old town" (Xinjie Zhen), a number of little villages, and viewing spots, which are all a little ways from the various towns and villages. When you arrive, buy tickets at the Qingkou visitor center and pick up a map of the area. English travel guides have historically been surprisingly short on information about Yuanyang, but when the rice terraces received UNESCO World Heritage status just a couple of years ago, tourism began to grow exponentially, and these days there are lots of guesthouses, many of which can be booked through hosteling websites.
Domestic Chinese tourists have also started coming to the area in droves, so it's best to avoid Yuanyang during any national holidays (unless you want to see what traveling in buses packed with camera-toting tourists is like).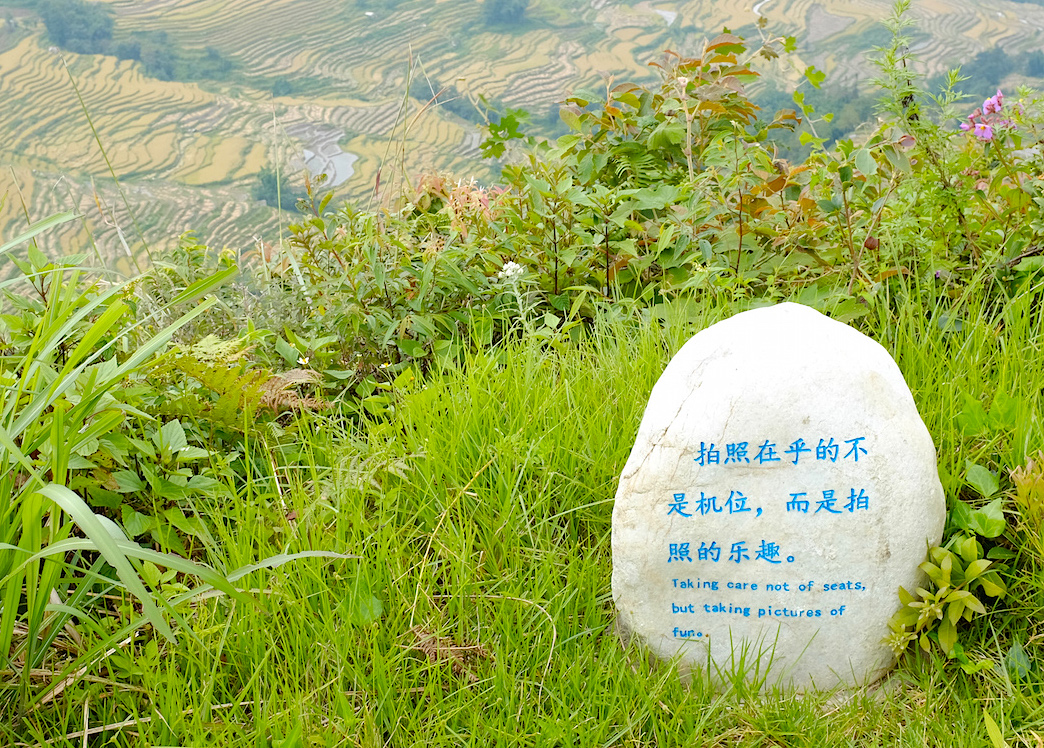 Most Western travelers looking for a little atmosphere stay in the Pugao Laozhai Folk Village, a part of Duoyishu Villlage that is below the main road and only accessible by walking down a stone path. The town is made up of old Hani mushroom houses and new buildings that house hostels and guesthouses, so it is quiet in the off-season but potentially touristy during the holidays.
Hotels
The area around the Honghe Hani Rice Terraces has lots of options for hotels (though most don't show up in guidebooks), and the road through the scenic area is also lined with guesthouses. Our first night in the area, we stayed at Duoyishu Grain Inn (元阳多依树云谷客栈, DuoYishu Yun Gu Ke Zhan) a brand-new inn run by John Xie of John Xie's Car Service (who had also arranged our car and driver and who had offered to be our guide for part of our trip). The hotel, which had just opened a few days before we arrived, is on the main road, was quite clean, and had the impersonal appearance of a regular Chinese business hotel. John provided meals in a small dining area (cooked by his father!), and we were led to understand that there's an excellent view from the rooms, though it was too foggy to see it at the time. John was a fantastic host and managed to get us invited to dinner at his neighbors' home and at the home of a Yi family in a nearby village.
The oldest guesthouse in Pugao Laozhai is Jacky's Guesthouse, a big, rambling hostel that has the best views of the rice terraces. (The downside to their location, if you have luggage to carry, is that it is also the farthest from the main road.) The atmosphere is very backpacker friendly, and the have a fairly large staff, including English speakers. While we were there, Jacky was adding new rooms, many of which looked like they would have lovely views. The downside to the guesthouse is that it has lots of staircases, so depending on where your room is, you might get quite a workout just getting to and from breakfast.
The second-oldest guesthouse in the village is Sunny's Guesthouse, and it has almost as good a view as Jacky's, though the cozy stone dining room is situated in the back, away from the terraces. (In cool weather it is lovely to sit there with the fireplace going.) It is also very backpacker friendly, but it also suffers from too many hallways and staircases. To get to some of the rooms, you actually have to go up one set of stairs and then down another.
The newest guesthouse in the village (at least while we were there), was the Timeless Hostel Yuanyang. It is smaller than the more established hostels, and is a bit farther from the terraces, but the rooms are brand-new and well-designed. The owner, who also has a hostel in Lijiang, is perhaps the most enthusiastic and talkative person we've ever met in China, and he has fallen completely in love with his new hometown and explored all of the nearby countryside. If you want a host who will jump up to take you on a guided hike and tell you everything he knows about the local culture (or just a lovely, clean, affordable place to stay with decent beer) this is your spot.
The most expensive and most beautiful (and romantic) spot in the village is the Flower Nest Inn (listed as Hua Wowo Inn,花窝窝客栈), a small guesthouse run by a mother and son team (see photo above). The best rooms in this lovely place have floor-to ceiling windows with views of a pear tree and of the rice terraces beyond the nearby rooftops, and the bathrooms are built out of dark stone. The mother makes a lovely breakfast, and the son is fluent in English. For our money, it was definitely worth the extra $20 per night. (For booking info, use Ctrip.)
Transportation
There are buses that run daily from Kunming to Yuanyang New Town, and smaller buses that run along the area's main roads, but many people prefer to walk between the villages and viewing spots. We had hired a driver for our trip (because we needed to pack a bunch of southern Yunnan destinations into just two weeks), and this was particularly convenient in Yuanyang as we didn't have many days to just wander slowly from place to place.
Sights
The main "sights" that people come to the Hani Terraces for is the literal sight of the rice terraces from the famous viewing spots. These spots have been built up by the local authorities with viewing platforms and walkways and will all require a ticket. You don't really have to go to these exact spots to see the terraces—there are plenty of places where you can take steep little roads down to the village that are dotted across the hills and get lots of views on your way—but as more and more people build guesthouses along the main road, more of the views are blocked off to passersby. The viewing platforms are actually quite lovely spots to stop at, so if you've traveled all the way to Yuanyang, you may as well pay an extra few dollars and enjoy them.
In addition to the views, there are some other tourist sights like the Qing Kou folk-custom village, which we did not visit but which seems to be made up of traditional Hani "mushroom houses." To see what life in Yuanyang is really like, however, it's best to visit one of the many local markets held in the area every week. Each town has a market that is held every week or every five days, though some are held on days that correspond to the Chinese zodiac rather than Western days of the week. (The market in Xinjie, for instance, is held on Rat, Dragon, and Monkey days.) Local innkeepers should be able to tell you which markets are being held on the days that you're in town.
Restaurants
All of the guesthouses in Yuanyang offer dinner, and most travelers seem to eat where they sleep. The road through the towns, however, is lined with little restaurants aimed mostly at locals. Breakfast is usually a bowl of rice noodles in a clean, clear broth (with pickles and very, very spicy dried chiles on the side). After visiting a market in Sheng Cun, we ate lunch at a restaurant called 云之味小吃店 (Yunzhiwei Xiaochi – or, roughly, Taste of the Clouds Snack Shop), a family-run spot with lovely, simple food. The nearby Hui minority restaurant labeled "Beef Museum" (in English) appeared to be a local favorite.
Photos: Josh Wand (6)
✺