March 22nd, 2013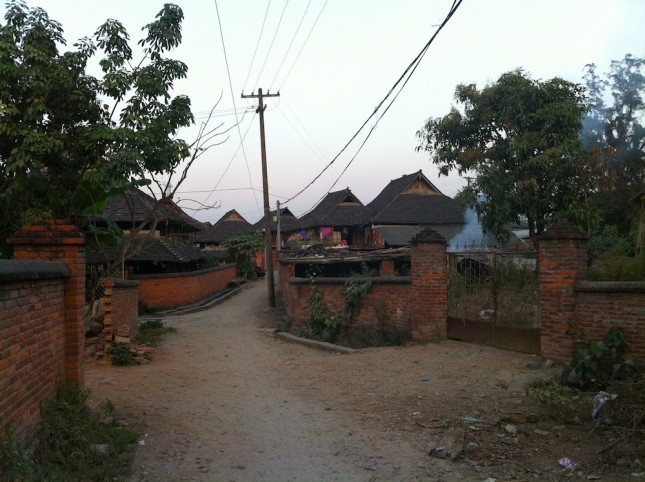 Xishuangbanna, the southernmost region in Yunnan, bordering Burma and Laos, is one of Yunnan's best-known areas, but it has surprisingly little in the way of tourism infrastructure. Backpackers visit the area to see elephants, treck through rain forests, and enjoy the laid-back, tropical atmosphere, but the area has lots to offer other travelers. Xishuangbanna is the home of pu'er tea, the wholesale market place for jade coming from Burma, and home to many different minority groups, most notably the Dai.
Hotels 
While the main city of Jinghong has many hotels for Chinese tourists, there are almost no places that cater to Western or English-speaking tourists. Most hotels have no English speaking staff at all. There are a couple of cafes however, that can help you book a hotel or hostel in the city. And there will be a Sheraton opening near the city in 2014.
My favorite place to stay, which is both a great deal and a lovely, modern hotel, is a tiny place hidden back in the corner of an alley near the city's main street for expat cafes. Called the Jinglan Hotel, it doesn't look like much, but the rooms are quiet and clean, with lovely bathrooms, and rooms run about $20 US per night. A far cry from the usual hostels where you hear people coming and going at all hours as if they're right in your bedroom. No wifi, but they do have USB cables to plug in a laptop. The proprietors unfortunately don't speak any English, but the Forest Cafe can book a room for you (though you'll get a better rate if you can find a translator to book it for you).
The lovely Youran Tai Hotel also looks lovely for those who want to stay in a more serene, upscale place. Run by Westerners, the buildings are built in traditional Dai style and overlook the Mekong River.
For a really upscale stay, there is a new Antara Resort in Menglun, next to the Xishuangbanna Tropical Botanical Garden that promises to be a fantastic stay.
DO NOT stay in the hotel in the Xishuangbanna Tropical Botanical Garden in Menglun unless you are particularly fond of mold and dripping ceilings. And paying a ridiculous amount for enjoying such amenities.
Transportation
Getting to Jinghong is easy. Express buses leave from Kunming multiple times each day, and the city has a small airport with flights from Kunming (and from larger cities like Beijing and Shanghai with short layovers in Kunming). Within Jinghong there are lots of cabs and pedi-cabs, and there are buses that can take you to any part of the province. While diverse, Xishuangbanna is actually quite small, and you can easily stay in Jinghong and take day trips, by bus or car, to explore the rest of the area. The bus stations do not have English speakers, but hotels generally know which stations to send you to and can write out the names of the towns for you.
Sights
The Xishuangbanna Tropical Botanial Garden, in the town of Menglun, is a huge garden with areas dedicated to tropical flowers, bamboos, figs, fruit trees, palms, and all kinds of tropical flora. Additionally, the garden has a large expanse of rainforest within its boundaries. It makes an excellent day trip from Jinghong (about two hours by bus), and the town of Menglun is nice to walk around in too.
While I don't usually do tours when I travel, I've found that there are fascinating parts of Xishuangbanna that I'd have never seen if I didn't break my rule and book a guide for a day here. Greg, the French expat owner of the Mekong Cafe, can take you to tiny minority villages, markets, craft centers, tea plantations, or any other kinds of places you are interested in. (We did many of these things all in one day with him.) While the rates aren't cheap, he can let you know if there are other groups who are also interested in a tour, and you can split the costs. I believe he also does longer, multi-day tours of Yunnan.
If you'd rather explore the countryside by foot, Forest Cafe offers guided treks that can last from one to four days, and trips that combine some bus travel with some hiking and walking.
Xishuangbanna is where the famous pu'er teas are grown, and many of the tea plantations boast tea trees that are hundreds of years old. The easiest plantation to get to from Jinghong without a guide is Nannuo mountain (南糯山, "Nánnuò Shān"), the base of which can be reached by bus. The mountain, however, is very tall, and to get to the top, you'll have to hike up a winding road for a couple hours (or more). (Or you could hope someone is driving up and can give you a ride—the Chinese symbol for hitchhiking is to stick your arm straight out to the side and move it up and down like you're patting a big dog.) Once at the top, you can walk along a narrow path that takes you through the tea trees, including an 800-year-old tree that produces tea so expensive it's always reserved for wealthy Chinese and Hong Kong businessmen. The mountain plantation is run by a man named Mr. Sheng and his two grown sons, and in the right season you can also watch them prepare the fresh tea. There is also a small tea room, where you can do a tasting and buy freshly pressed teas. (This trip can also be done as part of a tour with Mekong Cafe so that you don't have to hike up the hill.)
The market at Mengla, a large town to the southwest of Jinghong, is one of my favorites in China, not just for the foods available but also for the minority women—Dai, Bulang, Aini, and others—who come to do their selling and shopping dressed in colorful dresses and hats. Vendors around the edges of the main market sell all kinds of tropical fruits and vegetables, some of which I'd never seen anywhere else, and inside the covered part of the market you can buy local tobacco, dried chiles and mushrooms, and some of the best ham I've ever had. The back of the market has lots of cloth and clothing vendors, as well as prepared foods.
Restaurants 
Dai food leans heavily on grilled dishes, and going out for barbecue (烧烤, "shao kao") is a major part of eating in the area and one of the few ways you can try local foods without going to banquet places that only allow parties of four or more. In Jinghong, the best place for shao kao is on Manting hamlet (曼 厅小寨, "Manting xiao zhai"). Nearly every taxi driver in the city will know where you want to go if you just say "Manting xiao zhai shao kao" (曼 厅小寨 烧烤), and will drop you at what looks like a narrow parking lot where people have set up a huge grill and a bunch of tables and chairs. Shao kao usually starts up around 8 or 9pm, as it's considered a late night food (dinner in the area is served promptly at 5pm), and once you're there, you can pick from all kinds of meats, vegetables, and even insects and have them grilled for you. There's a stand selling overpriced beer, and there's often a band of some kind playing.
For other traditional Dai foods, my favorite places is Red Bean Garden Fish Farmstead (红豆 园 鱼庄, "Hong Dou Yuan Yu Zhuang") in Man'e, a small Dai village a few minutes outside of Menglun. To get there from Menglun, you can take a tuk-tuk out to Man'e, then continue walking along the street for a few minutes until you reach a little collection of structures that are downhill, a few yards from the road, nestled into a banana grove with fish ponds behind them. The restaurant is run by a woman named Mi Zhuang who used to be a rural healthcare worker and now raises fish and chickens and cooks for locals with the help of her daughter-in-law. My favorite dishes include her pineapple rice, grilled fish (straight from the ponds), mashed eggplant, and grilled chicken with herbs. Mi Zhuang doesn't speak English, but you'll want to have someone call ahead to arrange a meal for you as she's sort of an appointment only place and will need some warning so that she can go to the market and have the food ready when you arrive: 135 7810 0925. (She serves fresh pu'er tea, but you can also bring beer if you like.)
If you go to see the tropical botanic gardens, you can have lunch at the garden's "canteen," which is next to the garden's hotel. The place doesn't look like much, but the food can be quite good, particularly the braised pork and banana flower soup with coconut broth. (It's not on the English menu, but you can usually find someone else in the restaurant eating it.) If you get to Menglun early in the morning, there are also great noodle vendors selling late breakfast options on the road between the botanic garden entrance and the bus station.
For coffee and vaguely Western dishes in Jinghong there's Meimei Cafe (which serves the Hani Coffee Company's lovely brew), and Mekong Cafe, which are essentially next to each other. Both cafes also have wifi and Westernized versions of Chinese dishes.
For those who want noodles, there's also fantastic Uigher food in Jinghong. In the morning there are tons of places along Mengla Road that serve breakfast noodles that you can dress up with Sichuan peppercorn, light pickles, and herbs. For dinner there's a lovely place a few doors up the street from Mekong Cafe that has a menu with photos and excellent lamb noodles (dry and in soup) and lamb kabobs. I've never noted the name of the place, but the seating is outside, just above the sidewalk, and there's usually a grill going outside, a tv on facing the street, and a bunch of guys (the proprietor and his family) in traditional Muslim caps sitting around. They're very friendly, and the food is terrific.
Photos: Georgia Freedman (3)
✺