March 22nd, 2013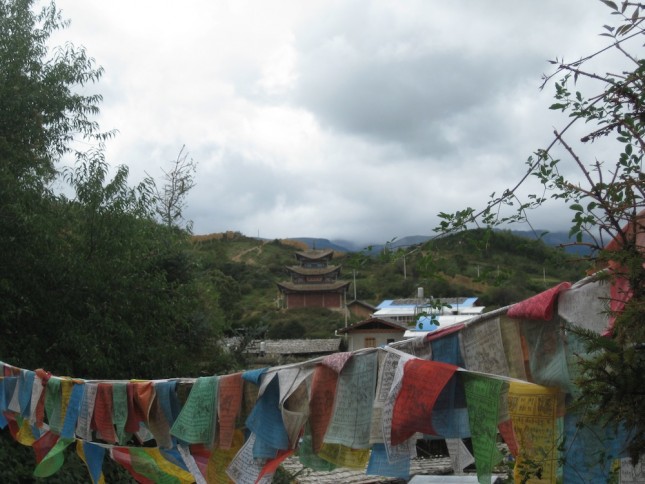 [Update: In January 2014 a fire burned down a significant portion of old town, especially the areas that had most of the touristy shops. Fortunately, many of our favorite places, to the south and east of the city, were spared, and when we visited in October of 2014 reconstruction was well underway. The places recommended here are still standing.]
The city of Shangri-la is in Yunnan's northernmost reaches, on the very southern edge of the Tibetan Plateau. It was originally called Gyalthang in Tibetan and Zhongdian in Mandarin, but the government changed the name in 2001, claiming the town was the location of James Hilton's novel and hoping to attract tourists. The city has grown into a modern city, but the old town with its old Tibetan houses has been preserved and is now full of inns, restaurants, and shops. It can be sort of touristy, but it's beautiful, and the area around the town is stunning.
Hotels
The center of Shangri-la old town, where many of the hostels are located, can be crowded and loud, but on the outskirts, in a quieter part of town, is Home Tibetan Home, an old Tibetan house that has been modernized with big windows and beautiful tiled bathrooms. The place has just a few rooms and is run by the owner, Hazel Pu, who is not from the area but is a generous host. The rooms are decorated with old Tibetan furniture and fabrics, and Hazel provides tea and thermoses of hot water in the rooms and lovely breakfasts in the mornings. Address: 6 Wayao Road, Jinlong Street, Old Town Phone: 139-8876-8385 Email: [email protected]
On our last trip we stayed at Xiangrui Ju Inn, which was very comfortable. It was literally across the street from the edge of old town, so it was easily accessible by car but not far from the sights. The only downside was that being outside of old town means you get more traffic sounds (honking horns, etc). We also had coffee at Yi's Hostel one day, and from the look of the place, I'd definitely try their rooms the next time I'm in town.
For a really upscale experience, there is the Banyan Tree Ringha in the countryside near the town. My parents spent a couple days there at the end of a trip, and loved it.
Transportation
Shangri-la has a small airport with flights from Kunming, and there are buses that make the trip for Lijiang daily. Once in Shangri-la, it's easy to walk around the old town, but a lot of the most beautiful areas of the region are outside the city, so it would be best to work with your hotel to hire a driver for day trips. For the very adventurous, I believe there are also motorcycles for rent.
Sights
Because Shangri-la is a well-known destination, a lot of the most popular places, including the large temple complex near the city, are crowded with tourists, but there are still lots of wonderful things to see, including many that are away from the crowds.
Shangri-la old town has shops selling Tibetan jewelry, thankas, sheep-skin slippers, and handicrafts. For some of the most beautiful items (and those that will benefit the community most), visit the Shangri-la Handicraft Development Center, which sells items made by women in local villages. Address: 1 Jinlong Jie; Phone: 0887-8227742
The countryside just outside Shangri-la is stunning, dotted with sturdy wooden Tibetan homes, small lakes, and fields where horses roam and graze. There's no public transportation out to these areas, but they're stunning to bike or walk around.
If you're looking for a company to show you around the countryside in this part of Yunnan, or along the Tibetan parts of Yunnan, Sichuan, and Qinghai, Hai Wei Trails offers guided trekking trips and guided trips in jeeps lasting from two to four weeks. We booked a one-week trip with them built around my own particular interests, and they were knowledgeable, friendly, and accommodating (and not at all thrown by the fact that we were traveling with two babies). They took us to towns and sights I would never have known to look for, and they were really attentive to my interest in local foods. I would love to go on another trip with them.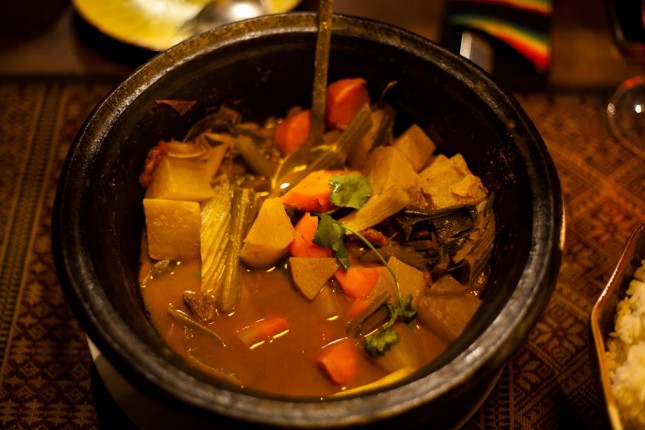 Restaurants
The Karma Cafe is owned and designed by the same woman who owns Shaxi's stunning Lao Ma Dian hotel, and the restaurant, which is housed in a restored traditional Tibetan home, is full of the same obvious care and authentic local touches. The menu is short, but it offers some western-style dishes like an utterly delicious yak steak, as well as some Asian fusion (though not local) dishes, like a lovely curry (above). It's the perfect place for a cozy, intimate evening. The building also offers a small number of guest rooms.
Tara Gallery Cafe & Bar is a wonderful place for Tibetan food in a restored Tibetan home. The building was just outside the area affected by the fire, and is full of local art. The momos are lovely, but the Tibetan noodles are a real treat. A good spot to hang out for a little while. Address: House 29, Old Town (on a pedestrian street).
Arro Khampa (阿若康巴) is also situated in a lovely Tibetan-style building full of art, and though it is not as quiet and intimate as Karma Cafe, it serves an equally lovely and slightly more locally-influenced meal. The restaurant was originally conceived as an Indian restaurant, but the best item on the menu is the yak hotpot which is full of flavorful meat and locally-foraged mushrooms. Address: 27 Jinlong Jie (金龙街 27号)  Phone: (133) 8887-3878
Photos: Georgia Freedman (3)
✺