March 22nd, 2013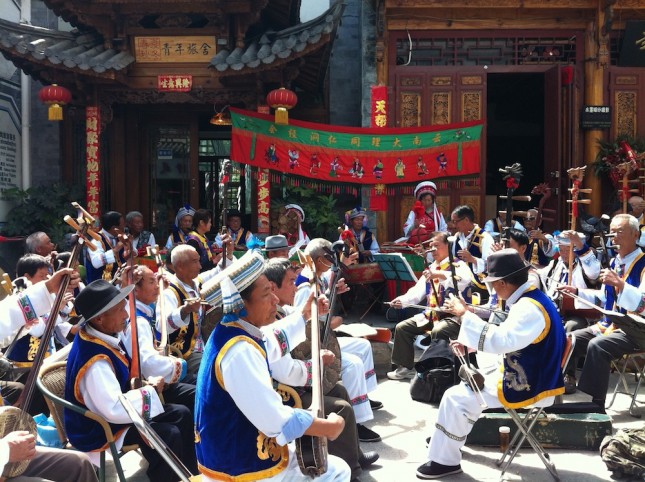 Dali, the heart of the Bai Autonomous Region and one of Yunnan's most popular spots, is a very tourist-friendly city. There are dozens, if not hundreds of hostels and inns, the center of the old city is full of backpacker-friendly restaurants selling things like crepes, muesli, and pasta, and there are tons of souvenirs and handicraft shops. And don't worry, if a backpacker- and Chinese-domestic-tourist-filled town is not your idea of fun, the areas just outside the main two streets are just as cute and quaint but are not crowded by other travelers. But be sure you're headed to Dali Old Town, not the new city that's also called Dali and is a big, modern city to the south.
Hotels
To be in the old city, within easy walking distance of restaurants and shops, but not so close that you'll hear bars all night, the Sleepy Fish Lodge is a perfect, affordable spot. The owner, Max, is incredibly helpful (on a couple of occasions she's arranged for her staff to help me find locals who were willing to teach me to make traditional foods or to spend time helping me with research), the rooms are clean and lovely, with little balconies on each, and they make nice Western breakfasts. (They also have Beer Lao in the fridge.) The only real noise that bothers me at night when I'm there is the occasional rooster, but there's really no way to avoid that in the Chinese countryside.
Outside Dali itself, about twenty minutes away in the town of Xizhou, is the Linden Center , a cultural center and hotel in a large refurbished courtyard home. The work they've done to rehabilitate the building is exquisite, the food is good (though you have to order your dinner an hour ahead of when you want to eat), and the town and surrounding rice fields are really lovely. Of course, it's pretty expensive, but it was a perfect place to take my parents on their first trip to China. And the center had free music shows, etc.
Transportation
You can get to Dali from Kunming via bus, plane, or train. The train, unfortunately, takes forever, but the bus is pretty affordable, is air-conditioned when needed, and takes 4-5 hours, usually with a stop for lunch somewhere. Once there, however, you'll need to take a cab from the bus station, in the big, "new town" into the old town, and that ride is generally pretty expensive. Cabs in general are expensive in Dali. There are buses you can take, but it's best to plan on walking around town or renting a bike from your guesthouse and saving up money for taking cabs to any of the out of town sights you want to see.
Sights
Dali Old Town is a lovely place to walk around, full of little shops selling local embroidery, tie-died fabrics, and hand-hammered silver; foot massage places; cute coffee shops and restaurants; and beautiful old Bai style buildings. Renmin Lu (People's Road) is a slightly quieter, more picturesque area than the more packed streets of Yu'er Lu and "Foreigner Street," it has more little boutiques run by dress makers or artists, and great cafes like the Xi Yi Cafe (where I was distracted from my work by a couple of kittens who drank out of my water glass). [Update: on our last trip we couldn't find Xi Yi Cafe, and we think it must have closed. But Renmin Lu still has great cafes, and is not too crazy, especially as you get farther away from Yu'er Lu.
The hipster center of Dali has moved to the new Art Factory, an old office building that has been taken over by cafes, a bar, and art galleries. The road leading up to the compound also has little ateliers with young people making clothes and leather goods, and there are some quiet cafes and restaurants. It's one of the calmest areas of the city.
The Changshan mountains behind the city are a wonderful place to go hiking. I particularly like the path up the mountains behind Wu Wei Temple (Wu Wei Si), where Shaolin monks train people in kungfu, because it's less crowded than other spots. Like all the hiking paths in the area it's paved with cobble stone, so your ankles will eventually get tired, and you'll have to step aside occasionally to let a motorbike or car pass, but mostly the mountain is very peaceful, full of huge ferns, native rhododendrons and azaleas, and the occasional old cemetery. To get there, hire a car to take you to Wu Wei Si, then double back out of the temple's driveway and keep going up the hill. (Make sure to get the driver's number or arrange for him to pick you back up at a set time.)
Dali's most famous sights are its pagodas, which date from the Tang Dynasty and have survived earthquakes and the Cultural Revolution. The area around the pagodas have been built up with tourism infrastructure, but the buildings themselves are lovely.
The towns around Erhai Lake are smaller than Dali and still have a very rural feel. If you rent a bike, you can ride around the lake and see a few. In theory you can also go cormorant fishing with locals on the lake, but I've never done this myself.
Restaurants
Dali is full of restaurants geared toward tourists (Western tourists who want Western foods and Chinese tourists who see eating Western foods as one of the unique experiences they have have in a place like Dali), but the local places that are not on tourist maps are the best bet and have fantastic food.
Dali has a famous cold noodle dish served all around town at stands and little restaurants that consists of cold cooked chicken, thick rice noodles (or, alternatively, mung bean jelly), greens, sweet and sour vinegars, and a thickened sauce made from the broth left from cooking the chickens. The most famous version is served at Zai Hui Shou (再 回 首) on Renmin Lu. They have two locations just a few yards from each other, and are famous for their sauce, which is made from a chicken broth they've been reusing and recooking for decades.
Another version of the cold noodles is made at Color of Wood (色了木, Si Le Mu), on Yu Er Lu. The place, run by a Hui family, is packed all day. You order from a waitress at a wood table and pay for the food, then take your ticket, with the name of the dish on it, to the station where they make the cold noodles or, if you want hot food, to the window at the kitchen. In addition to the chicken noodles they make an amazing stir-fried er si (noodle-like slivers of rice cake) with cumin and ground pork.
For some of Dali's other famous specialties, head to the eastern side of Yu Er Lu, a little away from the most crowded areas, and look for Yu He Yuan for Dali specialties like sweet and sour fish (酸辣鱼, suan la yu), and clay pot tofu (沙锅豆腐, sha guo doufu). Or duck into any of the little restaurants along the street that display their vegetable, mushroom, flower, and fish options by their front door and point to the things you'd like to try.
Photos: Georgia Freedman (3)
✺