October 17th, 2016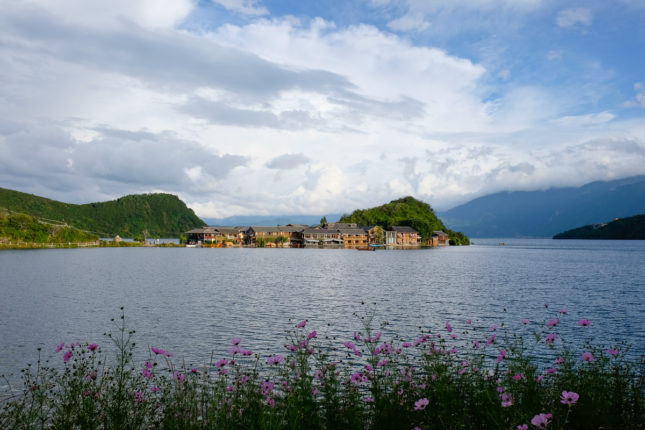 Nearly everything situated around the banks of Lugu Lake is related to tourism. And while some long-time Yunnan-based travelers feel that this focus on tourism has "ruined" the area, it's hard to argue that residents in the villages around the lake would be better off without the tourism industry. Other than the natural beauty, there's nothing else here that could provide an engine for economic growth, and those locals who aren't involved in tourism are subsistence farmers. To my mind, arguing that Lugu would have been better off without the growing tourism industry is essentially saying that the people here should be stranded in poverty just so that their culture can remain frozen in amber. And at this point, regardless of your views on the merits or failings of the tourism industry, you'll enjoy the area most if you give in to the idea of being on vacation and just enjoy the scenery and have fun.
With that little rant over, here are some logistics to consider: First, there are hundreds of hotels and guesthouses around the lake, ranging from youth hostels to luxury hotels. Unfortunately, there's very little information available about these hotels in English (most of the tourists here are Chinese). So for the best choice of accommodations, you'll have to speak some Chinese/be comfortable using Chinese booking sites or hire a guide to help you.
Second, there are a couple of towns, many small villages, and lots of free-standing hotels (situated away from the towns) around the lake, but it is difficult to travel between them. There is a small van that runs between the largest towns, but I have no idea how reliable it is, and you'll need to hire a driver if you want to go to any of the other places around the lake. For this reason, we chose to stay in Lige, the smaller of the two largish towns on the Yunnan side of the lake. The town is essentially just a bunch of hotels, restaurants, and other tourist-friendly spots, but it provided enough amenities to keep us comfortable (like an ATM that takes American bank cards, three different convenience stores for buying water/ice cream/snacks, a coffee shop, and a few eating options) without being overwhelmingly large. Even in this "large" town, however, we found that we would have had a really hard time enjoying the place if we didn't speak Chinese.
[Tip: The area has sudden weather changes, with hot sunny days that are suddenly disrupted by thunderstorms. I have been stuck in a storm at the top of a mountain and have been sunburnt because I went out for 40 mins without reapplying sunscreen. Wear a hat and always have an umbrella.]
Hotels
We stayed at Suimengyuan Hostel because it was extremely affordable and one of the few places we could find with an English description (which, since we'd never been to the lake and were traveling with a toddler, seemed like a useful thing). It's a little rough around the edges—you have to bring/buy towels and soap, the walls are a bit thin, the showers are hand-held on a wall of the bathroom, and the beds could be a bit more comfortable—but for basically $15 a night we got a nice big room with floor-to-ceiling windows and a deck overlooking a beautiful garden. The owner also makes an excellent breakfast, and once we explained that we like coffee in the morning (which is unusual in China), he made that too. The hostel is not right next to the lake, but because it's set back (about a 3 min walk), it's much quieter than the hotels right on the main road.
If I return, I will probably splurge a little and stay in one of the hotels on Lige Island. The most attractive (to my mind) is called the Paradise Inn (彼岸客栈, bǐ'àn kè zhàn). It doesn't have a website, but it's on WeChat at 泸沽湖里格彼岸客栈 (WeChat ID: wxid_oqp43o7yrhmi22). The inn is on the far side of Lige Island, facing away from town, and it's at the far end of the path with the best views. It is attached to what looks like the best little cafe in the area with a long menu of espresso drinks. Based on my conversation with the manager on duty, rooms start around $100 usd/night. Another, more expensive, option is a large hotel, Lige Peninsula Sunshine, at the far end of the other side of the island, facing the town across the small bay. The lovely rooms, which have beautiful views and free-standing bathtubs as well as porches overlooking the lake, start around $300/night (though it looks like you can get a deal on some booking sites).
Transportation
For many years I heard horror stories about the terribly road from Lijiang to Lugu that takes 12 hours and is full of holes. This past year (2016) the government finally opened new road in August, but as soon as it started to rain there were landslides, and everyone panicked and shut the road down again. Thankfully, a small airport has also opened in the area. It's about 1.5 hours drive from Lige, and there are only flights a few times a week (from Kunming), but it made the trip much more doable. That said, the area is often fogged in, so on our return flight we were delayed by half a day, missed our connecting flight, and could have our flight back to the U.S., so in future we'll schedule extra time if we plan to fly to and from Lugu.
Hotels generally arrange transportation to and from the airport for you if you ask. Ours used a young man with good English named Calvin who moved here from Shanghai and also has a small store in the airport selling postcards made from photos he's taken. He is also available for other transportation needs, though his prices are a bit high. (Contact him through WeChat at "朱文卿Calvin," WeChat ID: luguhuxiyouji.) Once settled somewhere around the lake, you can ask your hotel to connect you to drivers for short trips to see the sights.
Food
While the food we've had in locals' homes was fantastic (one of the benefits of being a food writer), the local restaurants we tried were not very good. The one thing we really enjoyed was barbecue at the roadside stands along the lake. Barbecue is not a particularly authentic minority food, but it's extremely popular around Lugu, and the chile mixes and sauces they give you to dip your food into (after you've cooked most of it yourself on a built-in grill on your table) are fantastic.
Sights
The most popular thing to do at Lugu is to take a small boat out onto the lake. Some boats take big groups and just head out into the water far enough for people to take photos. Most can be hired to take you to one of the lake's islands or scenic spots. A trip out to Rock's Island takes about 30 mins in either direction and costs 100 rmb for two people. It's not cheap, but it is very pretty and peaceful.
There are a few hiking trails through the mountains that offer lovely views. Because we were traveling with a two-year-old, we didn't opt to take one of these hikes, but the paths are clearly visible. There are also numerous little stairways that lead into the hills and mountains from various points and often take you to a small stupa or a view point. (There's a lovely, very manageable one that starts next to the park in Lige that has both a stupa and a viewing platform toward the top.)
For an in-depth look at Mosuo Life, you can arrange a private tour of the Mosuo Family Home, an old Mosuo home that has been transformed into a museum with old artifacts and plaques that explain the local culture. Visitors can also take a short trail-ride through the nearby fields and enjoy a traditional meal made up of cured meats of various kinds (as well as rice and a few other dishes). To arrange a tour, contact "Xian", a young woman from Chengdu who went to college in the U.S. and helped amass the center's collection: [email protected]
There also appears to be a large new Mosuo culture museum on the Sichuan side of the lake, but we only drove past it at night and did not have time to explore it.
✺