March 21st, 2013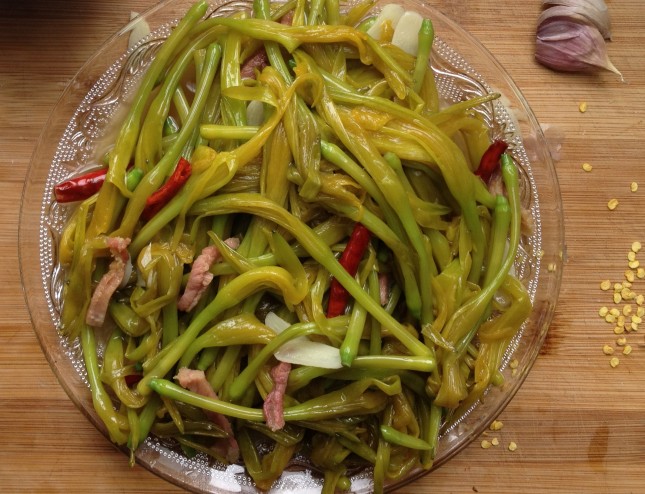 This stunningly beautiful dish was the first thing I ate in Yunnan that used the region's beautiful flowers as an edible ingredient. It is made with grassleaf day lilies, which have an amazing aroma and a lovely buttery flavor when cooked. (If you make this dish, be sure to ask if the flowers you're buying are edible so that you don't get the wrong ones.) If you like, you can make this dish without the ham for a slightly more subtle flavor.
8 oz day lilies (approximately 100 blossoms or two large handfulls)
3 tbsp. vegetable oil
1 oz Yunnan ham or other earthy, air-cured ham, cut into thin, 1 inch-long batons (if using Yunnan ham, you can soak it in water briefly to remove excess salt)
2 cloves garlic, sliced thinly lengthwise
4 dried Thai chiles, cut in half, seeds removed and discarded
1/4 tsp. salt
1. To prepare the lilies, remove any green stems, including the tops of the stems where they connect to the flowers. Then gently open each blossom and remove the stamens. (Some of the stamens' filaments may remain, and you also may end up pinching off the tips of some of the inner petals, which is fine.)
2. In a wok, bring three cups of water to a boil, and blanch the lilies for 1 minute to soften them. (Their color will deepen slightly.) Drain the flowers and set them aside, discarding the water and heating the wok over a low flame to ensure all the moisture is gone.
3. Heat the vegetable oil in the wok over high heat for about 30 seconds, then add in the ham and stir-fry for approximately 30 seconds, until the meat is mostly cooked (it will lighten in color). Add the garlic and dried chiles to the wok, then add the blanched lilies and sprinkle everything with the salt. Stir-fry for just 10 seconds or so, until all the ingredients are combined and hot. Remove all the ingredients to a serving plate, discarding the excess oil.
Photo: Josh Wand
✺