January 8th, 2012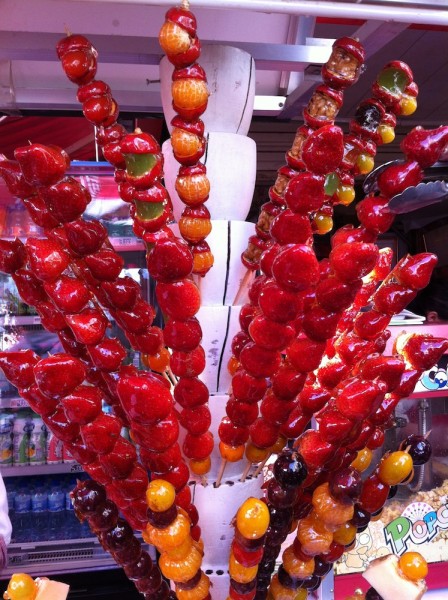 Kunmingers have quite a sweet tooth. Every afternoon around 3pm, when the afternoon is starting to feel long, the whole city seems to stop for a sweet snack. The most common—and easiest to grab—treat is an ice cream bar from a corner shop's freezer case or a cup of soft serve from McDonalds, Dairy Queen, or any of the other fast food chains that litter the city.
Much more fun are the skewers of bright, juicy fruit enrobed in a thick coating of crunchy, sticky sugar that are sold from little storefronts and snack stands. These can be made from any kind of fruit available. Crab apples are a favorite, as are whole peeled tangerines, grapes, and strawberries, when in season. Even slices of kiwi make an appearance, their bright green often used as a foil against more common red fruits.
Though no one bothers to make these at home, the method seems pretty simple. The fruit is skewered, sugar is heated until it has just melted (but not begun to burn), the fruit is then covered in the syrup, and the whole thing is left to cool on wax paper until the coating is hard and crunchy. If you can find rice paper (the kind used to wrap sticky Chinese candies), you can use it to wrap each skewer until it is eaten.
Photos: Georgia Freedman
✺