October 17th, 2016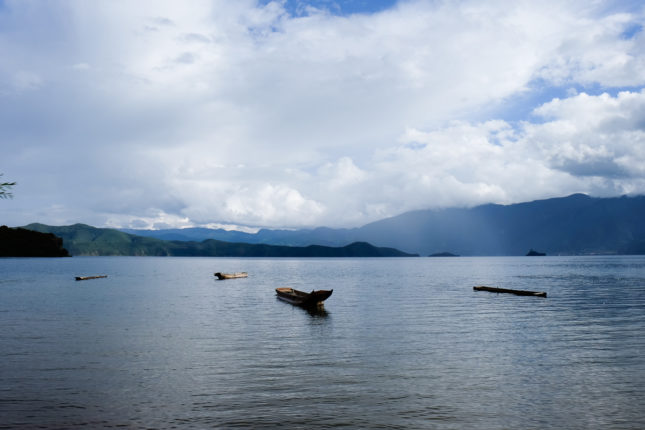 The first time I heard about Lugu Lake (泸沽湖; Lúgū Hú) was in a college class about contemporary Chinese politics where I saw a documentary called Kingdom of Women. The film explores China's Mosuo minority, a matrilineal society based in the area around Lugu Lake that is famous for its "walking marriages" in which most couples don't marry, women may have multiple partners over the course of their lives (and children with different fathers), and both men and women remain in their mother's (and grandmother's) home. The unusual social structure has long fascinated the Chinese—and anthropologists around the world—and the story stuck in my mind as well.
Over the years, as I began to learn about Yunnan's minorities, I continued to read about the Mosuo people (including research done by the Lugu Lake Mosuo Cultural Development Association, which dispels some long-held myths about the group), and I also heard about Lugu Lake itself, a beautiful, remote spot high in the mountains on the Yunnan-Sichuan border.
Lugu Lake is shaped like a butterfly, and its name, I've been told, means "falling into water" in the Mosuo language. The Mosuo follow their own ancient religion, Daba, an animist system of belief that holds that spirits reside in the local mountains, trees, and stones and has, as its highest deity, the mother goddess, Gemu, said to reside in Gemu Mountain. (According to one story, Lugu Lake is made of the tears that Gemu shed when one of her lovers found her with another spirit and turned away from her.) But over the centuries, traders along Yunnan's tea horse trail, which brought goods from Tibet to Southeast Asia, introduced the community to Tibetan Buddhism, and now most Mosuo practice both Daba and Tibetan Buddhism simultaneously. As a result, the area is decorated with swathes of colorful prayer flags and local homes have both alters to the fire god, found over the main hearth, and alters to the Buddha and Buddhist deities and teachers, usually in their own dedicated room.
But when we were living in Kunming, Yunnan felt inaccessible. The only way to reach the lake was to travel to Lijiang (a nine hour bus ride) and then take another eight hour bus ride via a rough, potholed road that was permanently under construction. With so many more accessible places to explore, we never ended up visiting Lugu.
Then, earlier this year, I read that the government had opened a small regional airport an hour from the lake. With an easier way to reach the area (and recognizing that this development will change the culture of the local minorities significantly in the coming years), we finally decided to see Lugu for ourselves.
"I wonder how much the government pays Lucky Air to operate these flights?" Josh said, surveying the tiny Lugu Lake airport. The building only has one carrier, and the three flights that come through every week are all from Kunming. The whole enterprise was clearly established just to encourage tourism.
Before booking my trip, I had requested information about hotels and sights on the Kunming expat website, but the only people who responded warned me off. The lake, I was told, had been "ruined" by the tourism industry. I was too late. I would not find the "real" Lugu on my trip. Fortunately, as we started off toward the lake, I saw very few signs of the kind of massive tourism-industrial complex that you find in popular Yunnan towns like Dali and Lijiang. There were no taxis waiting at the airport, just a couple of buses that were headed to the area's main town and a handful of private drivers. If we hadn't arranged a transfer through our guesthouse, we would have been completely stuck.
Knowing that we would be traveling with a toddler (and would therefor need access to certain kinds of amenities, like stores that sold yogurt and parks to play in) we had booked a room at an inn in the town of Lige, the second-largest town on the Yunnan side of the lake. Though we were told that it was full of tourists, it turned out to be quite peaceful. The town's only real road curved along the edge of the lake with small hotels and restaurants (and even one place that served coffee!) on one side and a lovely park on the other that lead to the shore of the lake on the other. Down by the water Chinese tourist gathered to take photos of themselves posed in front of the lake next to colorfully-painted canoes known as zhucaochuan or "pig trough boats", then quickly moved on to the next town or sight, eager to check all of the required Lugu experiences off their lists.
We spent our first evening like most visitors to Lugu, enjoying local barbecue. Most of the food was served raw so that we could cook it ourselves on a grate in the middle of the table, but we also ordered meat from a suckling pig that had been grilling on a spit for a few hours as well as some grilled fish prepared by the restaurant's cooks and a grilled eggplant filled with a pungent garlic sauce. Barbecue of this style isn't technically a traditional food around here and is mostly made for visitors, but it's wildly popular, and the food, dipped into the local fermented tofu-chile sauce, ground chiles, or a spice mix full of MSG and Sichuan peppercorns (or a combination of all three) is incredibly delicious.
Our first night in Lugu was also the night of the Chinese mid-Autumn festival, so the atmosphere at the restaurant was especially festive with families eating and drinking together. One of the restaurant's waiters adopted us for the evening, sending over a complimentary jug of the local sui lee ma wine, which was mild and sweet, and a stack of mooncakes for us to enjoy, and other customers offered us fruit and other treats.
We returned to our guest house to find the owner enjoying his own holiday meal with friends, one of whom he introduced us to as someone who could help us learn about Mosuo culture. Xian, a young woman who had moved to Lugu after finishing college in Virginia, offered to take us to a new, private museum called the Mosuo Family Home that she had started with a local family, so we agreed to meet the following morning.
The museum was only a few minutes' drive from Lige, up a dirt road that wound through hilly farmland. The building was a very large local home made in the traditional whole log style (like American log cabins) with multiple courtyards that had been renovated to hold a collection of old artifacts and photos. There were photographs that had been taken by Joseph Rock (the Austrian-American explorer and botanist who lived in northern Yunnan in the 1920s and '30s and first brought Yunnan to the West's attention), displays of old farming implements, cloth, and religious items, as well as examples of the Mosuo minority's famous preserved pork made from whole pigs that are salted, pressed, and aged for many years.
After seeing the exhibits, we settled in with a cup of tea in the "grandmother's room," the most important room in the house. Because Mosuo families are matrilineal, the grandmother is the most important member of the family, and she lives in the main living room and sleeps in a bed built into the wall, next to the fireplace. This grandmother's room was particularly lovely, full of beautifully-carved wood decorations, including a striking alter to the fire god above the family hearth.
The family who owns the house—a man names Zhashi, who inherited the home from his mother, and his wife and son, "Small Zhashi"—still lives in one of the building's back courtyards, and this room is still the center of their family life despite the fact that when Zhashi's mother died the family lost its traditional matriarch.
Zhashi's wife began to cook a traditional meal of preserved meat, setting a large pot over the fire filled with preserved pork ribs, sausage, blocks of fatty preserved pork, and a type of deep-fried aged pork, all of which were left to boil or steam. She also prepared a number of other dishes in a modern kitchen next to the main room: fresh bean curd topped with chile sauce, chicken soup with daikon, deep-fried local shrimp, crunchy rice chips, and stir-fried eggs. While she cooked, Zhashi and other family members sat on a balcony sipping tea made from the fruit of local flowering quince and nibbling on nuts and sesame seeds.
By the time everything was ready, we could have fed a dozen people or more. By far the best thing on the table was also the most unusual—the three-year-old preserved pork that had been boiled and then sliced into thick pieces. The fatty meat had been pressed until it had a dense but creamy texture, and it had an intensely porky flavor that was unlike any other dish we'd ever tasted. The result was almost addictive but also so rich that it was hard to eat more than a few bites. We ate slowly, savoring the unusual and delicious meal, then made our way back to Lige.
Being at Lugu forced us to slow down and relax. Every day we explored the area or met with locals to learn to make native foods, but there is only so much to do along the lake, and most afternoons thunderstorms swept in and kept us inside reading and napping. Instead of rushing around like we often do in China, we began to enjoy our time and treat ourselves like we were on vacation.
Our last day at the lake, we decided to take the vacation vibe one step further and do what visiting Chinese tourists do: take a boat out onto the lake to take photos and visit Lugu's seven small islands. We opted to visit Heiwawu Island (黑瓦吾岛), also known as "Rock's Island" because Joseph Rock lived there at one time.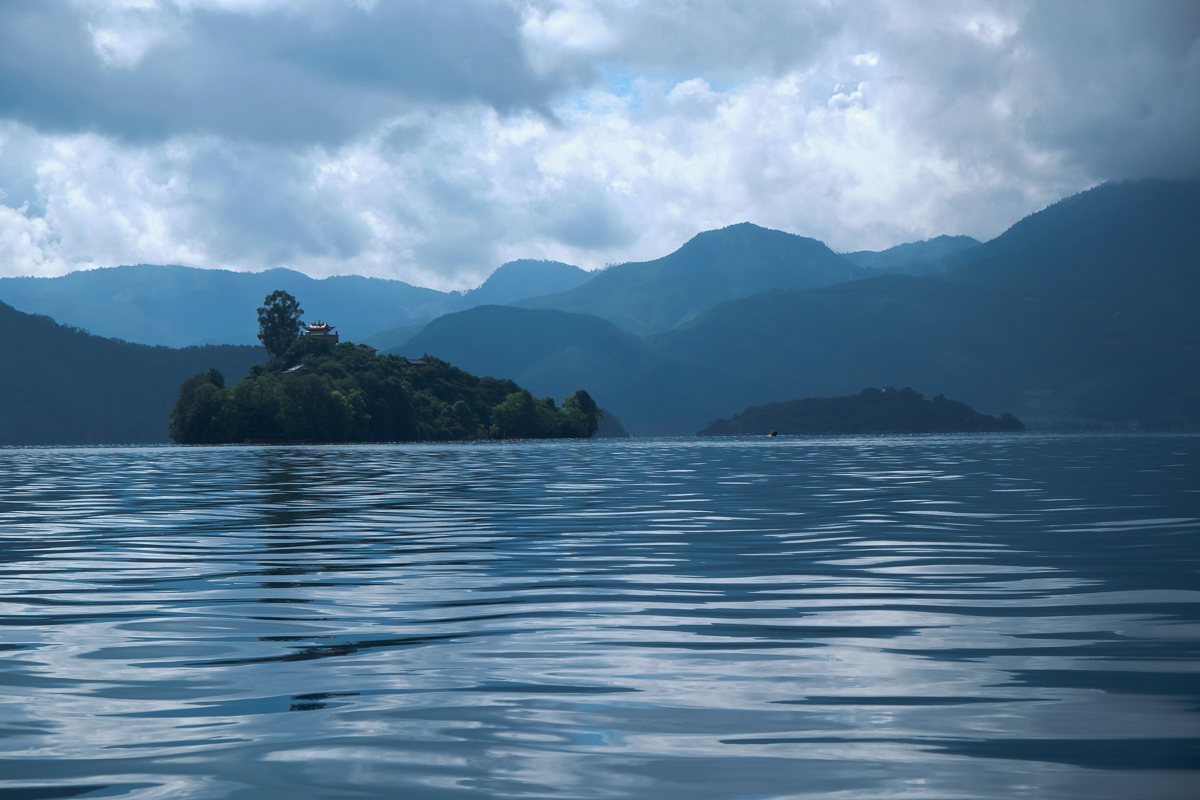 A woman near the dock offered to take us there and back for 100 rmb (about $15), and we hopped into a bright yellow boat with a small, quiet motor. The lake water was shockingly clear, and there were beautiful white flowers bobbing along the water's edge on long stems that reached all the way to the lakebed.
We reached the island after about 20 minutes and made our way up a series of stone steps to see the few structures on the island. A building with a plaque that identified it as Joseph Rock's house was locked, but looking in the windows we saw that it had clearly been renovated in the past few years; it was carpeted and wired for electricity, and there was hotel-style furniture inside. (We later found out that the original house had burnt down and this was a "rebuilt" version.)
At the top of the hill was a beautiful temple surrounded by a flower garden. The place was quiet and peaceful, and if there had been a tea house next to the temple, we would have happily stayed all day. (Note to the local Lugu Lake authorities: You could make a lot of money serving tea and snacks on Heiwawu Island.)
On the way back to Lige, our boat's motor died, leaving us in the middle of the water on a hot day. The boat's driver pulled out an oar and asked Josh to take another, then burst into a local song as they began to row us back to shore. I was beginning to think that we'd be stuck on the lake for an hour or longer, but fortunately another boat pulled up alongside us and offered to help. The Chinese tourists onboard grabbed the side of our boat, and we chatted about the lake, the sights, and our travel in Yunnan while their motor slowly pushed us back to shore.
Photos: Josh Wand (3), Georgia Freedman, Josh Wand (11)
✺