March 11th, 2014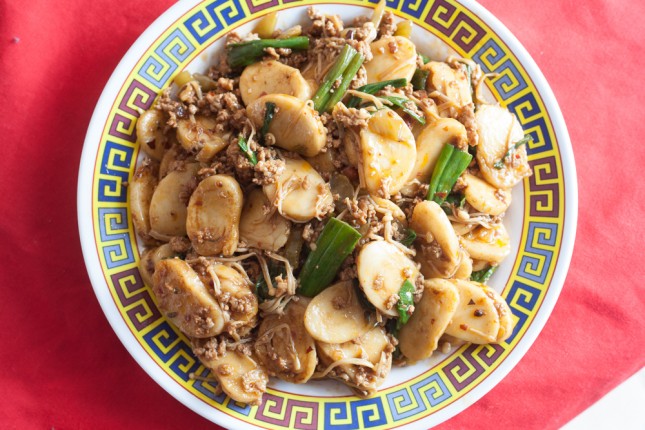 Yunnan-style rice cakes, known as erkuai (饵块) have a distinctive flavor and a dense, chewy texture. While they are not available in the US (and rarely available in any part of China outside of Yunnan), they are similar to their slightly chewier cousin, Korean rice cakes, which are available in round, pre-sliced pieces in most Asian grocery stores and make a decent substitute for the real thing. (They are, however, softer than Yunnan rice cakes, so leaving them out to air-dry and harden up a bit before you cook them can help you get a more authentic texture in your finished dish.)
There are as many ways to prepare erkuai as there are cooks in Yunnan, but this recipe, which Josh reverse-engineered to make work with ingredients available in the US, is based on versions found in restaurants in Kunming and is one of our favorites.
3 tbsp canola or peanut oil
1 1/2  tbsp Lao Gan Ma brand spicy bean paste ("xiang la jiang", 香辣酱)
1/2 cup ground pork
2 1/2 cups Yunnan-style erkuai, sliced, or Korean rice cake ovalettes
3 tbsp chicken broth
3 tbsp Kunming-style pickled mustard greens (or jarred Chinese-style pickled mustard greens)
1 bunch scallions, green parts only, cut into 1 1/2″ sections
3/4 cup enoki mushrooms
1 tbsp dark soy sauce
1/2 tsp Lao Gan Ma chile and spices in hot oil with peanuts ("la jiao," 辣 椒)
Heat 1 tbsp oil in a wok, add the spicy bean paste, and stir-fry it for 10-20 seconds, until fragrant. Add the pork and stir-fry, breaking up the meat, until it has browned slightly, 2-3 minutes. Remove the pork and its sauce from the wok and set it aside. Clean the wok with hot water and put it back on the stove to dry.
When the wok is dry, heat the remaining 2 tbsp of oil until hot, then add the rice cakes and toss to coat them with oil. (The better the oil is distributed, the less likely the rice cakes are to stick to each other.) Add the chicken broth and stir-fry until the cakes have softened slightly, about 20-30 seconds. Add the pickles and the prepared meat, with its sauce, and toss to combine, then add the scallion and enoki. Stir-fry the dish until the meat is hot, the scallions are slightly wilted, and the rice cakes are soft but not too squishy or sticky, about 1-2 minutes. When the ingredients are cooked, drizzle in the dark soy sauce and the chile in hot oil, mix the ingredients until everything is just combined, and remove from the heat to serve.
Photo: Josh Wand
✺