April 17th, 2013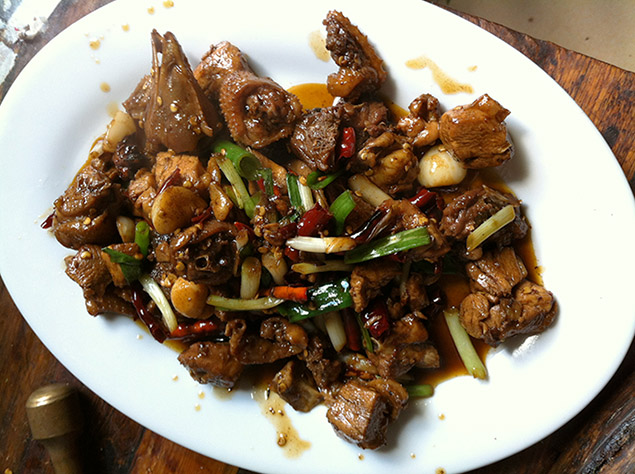 This Bai-style stewed chicken is one of the most famous dishes in Dali, the historical capital of the Bai people. The recipe calls for many of the spices typically found in Bai food, including black cardamom, Sichuan peppercorns, star anise, and dried chiles, all of which blend together to create a slightly sweet, slightly spicy, and utterly comforting flavor.
1/4 cup vegetable oil
1 whole star anise
1 tbsp granulated sugar
1/4 cup dried chiles
1/2 chicken cut up Chinese style, across the bone, into 1/2″ long pieces
2 tsp salt
1/4 cup light soy sauce
1/4 tsp ground black cardamom seeds
4-5 cloves of garlic
2 cups water
1/4 tsp ground Sichuan peppercorn
Heat a wok over high heat, add the vegetable oil, and let it heat until nearly smoking. Add the star anise, the sugar, and the dried chiles, and stir-fry for a few seconds until they are a little fragrant. Add the chicken, salt, soy sauce, cardamom, and garlic, and stir-fry everything over high heat for 3-5 minutes (depending on the strength of your stove), until the chicken no longer looks raw. Add the water and the sichuan peppercorn, and bring to a boil.  Let the mixture boil for 3 minutes, stirring occasionally so that all of the chicken pieces cook, then cover the wok with a lid and let the chicken continue to cook for 3-5 minutes (depending, again, on the strength of your stove's flame). Remove the lid, add a large handful of scallions, and cook, stirring occasionally, for another three minutes, until the scallions are limp and the broth has thickened a little.
✺