April 12th, 2013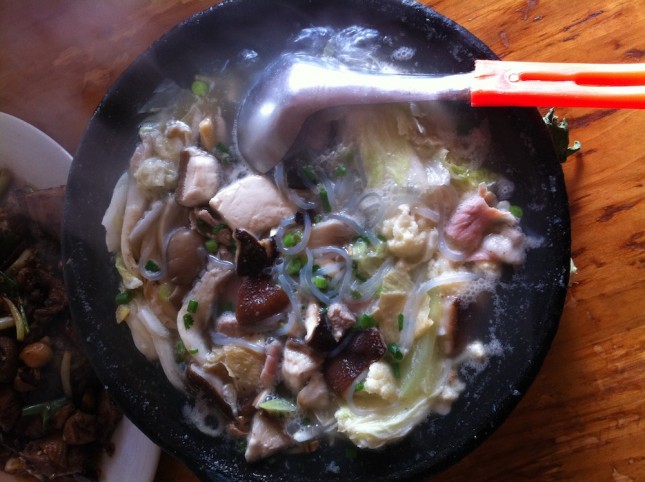 This dish is one of Dali's most famous foods, and it can be found in nearly every restaurant in town. While many of the area's foods are filled with spices, this soup is simple and light and tastes only of the tofu and vegetables used. The dish is usually served with a small bowl of mild dried chile, finely ground, which can be made into a kind of dipping sauce for the vegetables if you add a bit of broth to it. The the slightly smokey chiles that are used in this part of Yunnan are not readily available in the US, but Korean dried chiles, which can be found in any Asian supermarket, make an excellent substitute.
1/2 of a small head of Napa cabbage, cut crosswise into 1″ thick strips (about 3 1/2 cups)
3 shitake mushrooms, cleaned and cut into 1″ thick slices
1/8 cup fresh or rehydrated wood ear mushrooms
6 long strips of celtus – or – 1 large head of bok choy sliced cross-wise into inch-thick strips
1/4 small head of  cauliflower, cut into florets
10 2″ long pieces of fresh or rehydrated tofu skin
1″ piece of ginger, crushed slightly with the side of a knife
10 oz of firm tofu, cut into four pieces
8 paper-thin slices of Yunnan ham or prosciutto, each approximately 1″ x 2″
1 tsp salt
3-4 cup of pork or chicken broth (to cover) (you can use the same broth that is used for Kunming-style noodle soup)
Smokey, dried ground chile
In a large Kunming-style clay pot or saucepan, layer the vegetables snugly, then top with the tofu skins, the ginger, the tofu, and the ham, sprinkle with the salt, and top with the broth. Bring the pot a boil, then lower the heat to low, press the tofu and vegetables into the broth a bit to ensure everything is covered with broth, and simmer everything for approximately 15 mins, until all the ingredients are cooked through and tender.
Serve in the pot or in a large bowl, and give each diner a small bowl of the ground chile to dip the vegetables into.
Photo: Georgia Freedman
✺