October 29th, 2015
A version of this story, along with these photos, first appeared in Saveur magazine in January 2012, back when we were first living in Yunnan.
The dish seems simple enough at first—fried potatoes and chunks of chicken bathed in a slightly sweet sauce with enough chile to give everything a glowing orange hue. Then I bite into a slice of mugua, the firm, tart fruit that tastes something like a cross between a guava and a green papaya, and the whole dish changes shape, becoming something wild and surprising.
Strange ingredients like this are the highlight of the food here in my newly adopted home of Yunnan Province. I am forever discovering fruits and vegetables that I've never seen anywhere before, ingredients unique to this part of the world where China meets Tibet on one side and Southeast Asia on the other.
"Are you used to the flavors here?" locals often ask. And I always say yes, because to say no would be to imply that I don't like the food, that it doesn't suit me. But in truth I hope that I never get used to the amazing flavors of Yunnan, that they always have the power to surprise me and to remind me how strange and wonderful food can be.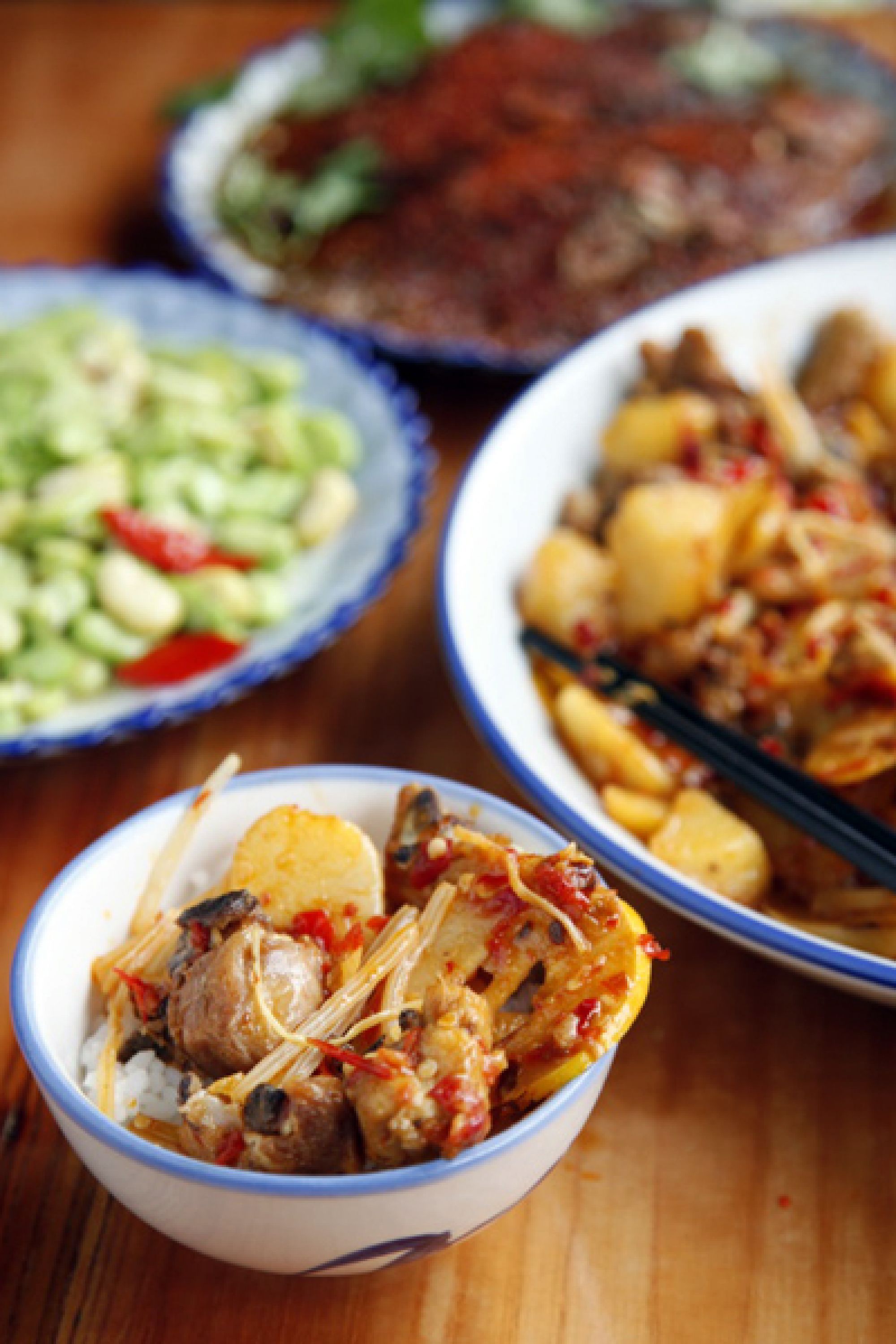 Sweet and Sour Chicken Stir Fry (Mugua Ji)
The recipe below is a version of mugua ji designed to be made with ingredients available in the U.S.; I've never seen mugua (the fruit of a flowering quince) in markets here, but green papaya is a good substitute.
(serves 4)
1 tbsp. kosher salt
1 tbsp. sugar
1 tbsp. cornstarch
1 tbsp. white wine vinegar
3 cups canola oil
2 medium russet potatoes, cut diagonally into 1″ chunks
4 boneless, skinless chicken thighs, each quartered
¼ cups Asian chile paste
2 tbsp. minced jalapeño or serrano chiles
9 oz. thinly sliced mugua or green papaya
6 ribs celery, cut into 2″ pieces
1 (4″) piece ginger, unpeeled and cut into ⅛″-thick slices
¼ cups Asian chile oil
Cilantro leaves, to garnish
Stir together salt, sugar, cornstarch, vinegar, and 1 cup water in a small bowl; set slurry aside. Heat canola oil in a 14″ flat-bottomed wok or high-sided skillet over high heat. Add potatoes; fry, tossing, until browned, about 8 minutes. Using a slotted spoon, transfer potatoes to a paper towel-lined plate to drain. Add chicken pieces to oil; fry, tossing, until browned, about 4 minutes. Using a slotted spoon, transfer chicken to a plate; discard all but ½ cup oil, and return wok to heat. Add chile paste and minced chiles; cook until fragrant, about 30 seconds. Add chicken, papaya, celery, and ginger; cook for 1 minute. Add slurry; cook, stirring constantly, until sauce thickens and chicken is cooked through, about 4 minutes. Add potatoes and chile oil; cook until potatoes are tender, about 2 minutes. Garnish with cilantro before serving.
Ariana Lindquist (2)
✺