March 11th, 2014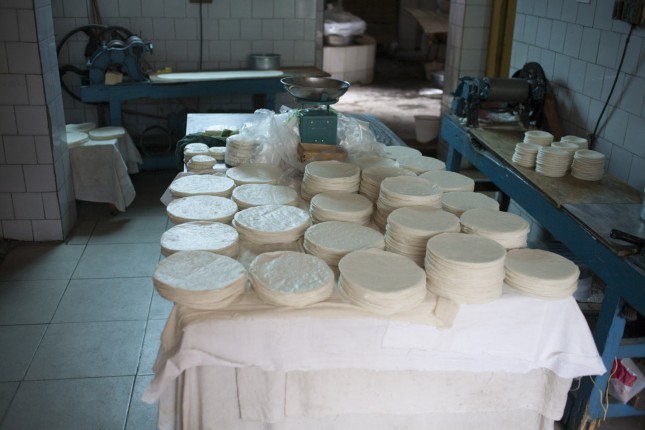 It was a fortuitous find. We were spending a weekend in Dali and were walking down a quiet, narrow street to get away from the crowds of tourists that take over the busier parts of Dali's historic Old Town on busy days. The little lane was lined with grey brick walls and small local homes, all with their doors closed. When we came across one door that was propped open, we glanced inside, expecting to find a courtyard or a small living room. Instead we found an artisanal erkuai factory. The room's long wooden tables held a variety of small machines, run by little two-stroke gas-powered motors, and piles of er kuai, Yunnan's famous rice cakes, in various stages of completion. We knocked on the shop's door, and the owner agreed to let us look around for a few minutes.
Erkuai is one of our favorite Yunnan ingredients, and in the time we'd lived in Kunming it had become a staple on our table. It is dense and slightly chewy, but, unlike rice cakes from places like Korea, it is not sticky, so it can be stir-fried, grilled, or even sliced into thin noodle-like strips without losing its shape or texture. And in addition to its lovely texture, it also has a unique mild flavor that pairs well with everything from mushrooms and pork belly to summery vegetables. Down the street from our apartment in Kunming one vendor grilled thin, round, tortilla-like pieces of erkuai, brushed them with peanut-sesame sauce or chile sauce and and wrapped them around youtiao, long sticks of fluffy, crisp fried dough as a delicious breakfast for commuters.
While erkuai is a Yunnan specialty, its exact birth place is up for debate. Some claim that it originated in Tengchong County, a region in Yunnan's far west, bordering Burma, that is known for its very flavorful rice. Cooks there make two famous dishes using erkuai: dajiujia (大救驾), a dish of sliced erkuai stir-fried with pork or eggs and tomatoes, greens, and chiles; and ersi (饵丝), the thin, noodle-like strands of erkuai, served in a light broth with cabbage and pork.
Others claim that it originated in Guandu Old Town (官渡古镇), a village just south of Kunming that has become a popular tourist destination for its old architecture, lovely pagodas and temples, and popular food vendors. Locals also claim that the best erkuai is made at a mill in Guandu which uses old, traditional methods to make the cakes. The rice is washed, soaked, and steamed, then it is pounded into a soft mush using a huge wooden mortar and pestle, kneaded on a wooden board to remove any air bubbles, and shaped into oblong loafs.
The small erkuai factory in Dali was rustic but a bit more high-tech than the factory in Guandu. The cooked rice was processed in machines that looked like meat grinders, then run through rollers that looked like pasta machines. Some was processed through the rollers a few times to form pancake-like rounds, while some was pressed into molds to create thick cakes or slightly thinner mooncake-like rounds.
When we had finished our brief tour of the factory, we headed back out into the alley and over to one of Dali's main streets, determined to find some erkuai or ersi to snack on. At Color of Wood (色了木, Si Le Mu), a Hui-style restaurant on Yu Er Lu, we found the perfect thing: ersi stir-fried with spices and pork. The dense ersi was flavorful and chewy, and the dish was redolent with cumin. It was the perfect combination of flavor and texture in a dish that we would never find anywhere else in the world.
Photos: Josh Wand (2), Georgia Freedman, Josh Wand
✺