May 17th, 2013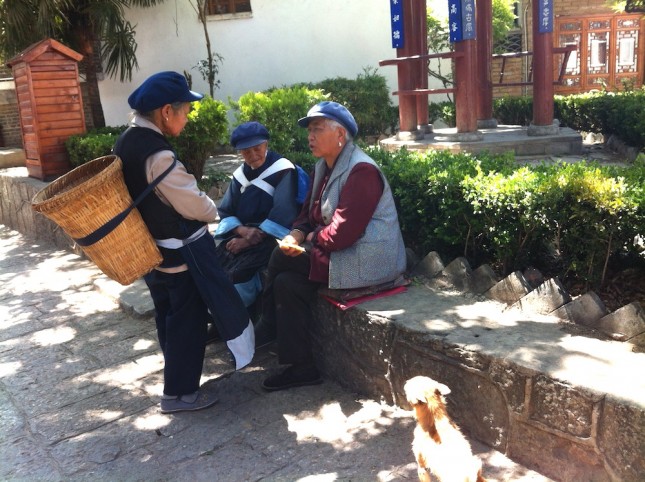 The city of Lijiang presents a kind of conundrum for travelers. It's Yunnan's most famous place, a historic spot that attracts hundreds of thousands of tourists each year, and, as such, it exemplifies both the best and worst aspects of the region. On the one hand, Lijiang Old Town is a beautifully preserved Naxi village, a place that has so captured the imagination of visitors that it is classified as a UNESCO World Heritage Site. On the other hand, Lijiang is a very profitable tourist location, and the Chinese (and international companies of all kinds) have exploited its fame, turning it into a theme park version of itself full of souvenir shops and fast food outlets.
"Don't go!" a friend warned shortly after I moved to Yunnan. "It's horrible. There's a Pizza Hut in the square in Old Town. It's not worth a trip." And so I didn't go. For months I traveled to other towns all over Yunnan, driving straight past the turnoff for Lijiang on my way from Shaxi to Shangri-la or Shangri-la to Dali. But after a while, this started to seem silly. Yes, Lijiang was probably not the kind of lovely, relaxed, authentic town I usually went looking for out in the Yunnan countryside. But how could I live in Yunnan, and try to speak about the region (much less write about it) without going to its most famous spot? Surely there would be something good to find there. And if not, at least I'd have seen it for myself.
So last spring, when my friend Lea Redmond decided to come visit for a while, I planned a trip that would take us to Lijiang. For someone who had never been to China, I reasoned, Lijiang my actually be a good place to visit. A first-time American visitor might like a chance for some Western food or handicraft buying on a trip to China, I thought. Maybe I would too. And anyway, it was an obvious last stop if I planned to take her to Dali and Shaxi along the way.
We arrived in mid-April, and I quickly realized that if I was going to go to Lijiang, I had picked exactly the right time of year for it. The weather was warm and clear, and every apple tree, plum tree, pear tree, and rose bush was in bloom. In the countryside the fields were just beginning to show bright green stalks of grass, and golden fields of flowering mustard plants practically glowed in the sunshine. If we didn't like the town itself, I thought, at least we could just come out into the countryside.
Then we reached Lijiang itself, and I began to see what my friend was talking about. For one thing, I had made a major mistake in thinking of the place as a "town." For some reason, when I heard about the Naxi village protected as a World Heritage Site, I had envisioned a little group of wooden houses set into the countryside among farms. What I found, however, was that Lijiang had become a normal Chinese city. Just like Dali, with its big "New Dali" next door, or even Menglun, with its concrete and tile buildings, Lijiang had developed all of the modern facilities, roads, government offices, and shopping malls needed to service a city of over 150,000 people in China. As we drove through the city's terrible traffic, I noticed all of the same chain stores and fast food outlets I'd found in every other city in China from Xi'an to Kunming.
And then we drove past the entrance to Lijiang Old Town itself, and my heart dropped. From the outside, it looked like a theme park. There were enormous wooden gates painted with bright Chinese designs, little wooden houses that looked like they might be ticket offices, and enormous crowds of people. I wondered if I'd made a terrible choice.
Thankfully, I hadn't booked rooms in the actual city of Lijiang; instead, I'd found a guesthouse in Shuhe, the next town over. We drove through the city, back out into less crowded street, and arrived a few minutes later. Like Lijiang, Shuhe boasts an "Old Town," but unlike its famous neighbor, Shuhe itself is still just a tiny village. When we got out of the car, I was stunned by the quiet. There was almost no one around, and the only sounds were dogs barking in the distance, birds chirping, and the occasional neighbor walking by on foot.
The next day, fortified by a good night's sleep, we decided to give Lijiang a try. Fortunately, when we arrived at the gates this time, it didn't seem nearly as crowded. In fact, as we wandered into the main square, which is home to a pair of enormous wooden water wheels and, yes, some fast food outlets and banking outposts, it didn't feel overcrowded at all.
We wandered through the town's streets, picking the narrowest ones and heading away from the areas that looked the most touristy, and we found ourselves in quiet cobblestone alleyways where old Naxi women were chatting with friends and vendors sold the town's famous "baba," a type of bread that has scallions rolled into it, along with a broken-up egg or some nuts, before it's baked. On a slightly larger street, lined with the kinds of everyday shops the locals would actually need (pharmacies, corner grocery stores) we found a utilitarian but well-stocked calligraphy shop. From this side of town, Lijiang actually felt like the kind of quiet, beautiful spot that I had been hoping for.
According to UNESCO, Lijiang has been occupied since the Paleolithic era, and what we now call "old town" was first built in the 13th Century. The layout of the town was determined by waterways and canals, which were designed to provide every house in town with water, and the wood and adobe buildings incorporate design elements from the Tibetan, Naxi, and Bai minorities. Lijiang was a major trading stop on Yunnan's Tea Horse Trail (the trading route along which people traded Tibetan horses from the north for tea and other goods from the south), and until the Cultural Revolution it was southwestern China's most famous city for decorative silks and silk embroidery.
One of the best examples of Naxi style and decorative arts is the Wangu Lou, a pavilion towering above the town on Lion Hill that is said to be the tallest wooden building in China. After wandering in the town for a bit, we climbed up the hill to the pavilion and admired the bright, intricate paintings that covered every bit of the building's structure and the stunning views of Old Town and the snow-topped Jade Dragon Snow Mountain towering above it all.
On the way back down to town, I began to see signs that there was in fact another, more touristy, side to Lijiang. Just below the pavilion, where we stopped to have tea and enjoy the view, there was a line of little shops catering to tourists who wanted to buy colorful pashminas or dress up in traditional Naxi or Tibetan costumes and have their photos taken in front of the famous views. And a bit farther down the hill, all of the old wooden buildings had been turned into bars featuring signs for beer and little karaoke set-ups. None of these establishments were open at that hour, but you could tell just walking past that Lijiang at night must be much louder and more raucous than Lijiang during the day. We opted to head back to Shuhe before the nightlife was in full swing and enjoyed a quiet meal of local specialities, including tiny fried river fish, stir-fried beef with chiles, and vegetables, at a family-run restaurant.
*              *             *
Most tourists who come to the region come not just for the Old Town but also because of the beautiful mountains and lakes in the region. We didn't have enough time in our trip to do some of the most popular outdoor activities, like hiking up Jade Dragon Snow Mountain or visiting Tiger Leaping Gorge, so we asked our host to recommend a nearby hiking path and set off from a village just across the fields from Shuhe. The trail, which was well-marked in most places, took us up into the mountains through stands of pine trees. Part-way up, we found a Tibetan Buddhist temple that was undergoing some renovations, and, above that, at the top of a small peak, a beautiful old stuppa decorated with prayer flags.
Farther up the mountain we passed a small graveyard, which seemed to have both very old and fairly new graves, and, at the top of the mountain pass, a small, stunning lake. Along the edges of the lake we found a couple of wooden huts where local Naxi foragers had stored their backpack-like baskets as well as cups, tea kettles, and dented metal bowls.
The lake seemed to be a popular tourist attraction, and as we neared it we began to see groups of Chinese tourists riding up the mountain on horses, many of them wearing leather cowboy hats along with their khakis and polo shirts. We followed the path they had come up, and within half an hour we had arrived at a small town on the other side of the mountain. The place was clearly just a little farming village with chickens roaming in the streets and donkeys tied up in front of old courtyard houses, but along the main road was a single restaurant serving dried rib hot pot, a local specialty.
This local hotpot, called Natural Pig Preserved Short Ribs (土猪腊 排骨 "tu zhu lai pai gu"), or, sometimes "waxed" pork ribs, is made with meat that has been rubbed with salt and dried. The ribs are then cut into small pieces, across the bone, and cooked in a hotpot, over a high flame. We ordered one small pot of the ribs and an assortment of vegetables, mushrooms, and noodles to add to the pot. The whole thing came with little bowls of fermented tofu mixed with chopped cilantro and scallion that served as a dipping sauce for the cooked ingredients. It was hearty and filling and flavorful, the perfect meal for a day in the mountains.
Photos: Georgia Freedman (12)
✺