September 11th, 2013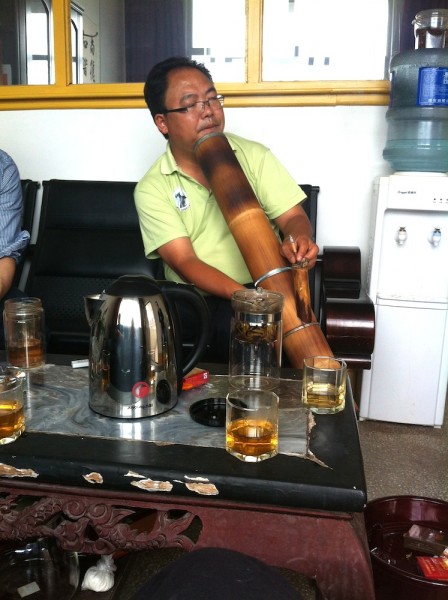 When Luo You-Yong summons you, you drop what you're doing, and you show up. You'll find him in a corner office on the top floor of the local party complex, in a four story building arranged around a courtyard with a tile roof and other classical Chinese details. You sit on the faux leather couch in the outer room of his office and his young assistant will bring you tea. In addition to the tea, Luo will offer you cigarettes, and he'll light one up for himself and smoke it through a thick, two-foot-tall bamboo water pipe, finishing it quickly, in just under a minute, then waiting a few minutes before lighting another.
Or you'll meet him at a restaurant, where he's commandeered a large round table with a couple of subordinates and is receiving colleagues from all of the other tables of party functionaries. As each person comes over, everyone will stand while the visiting official makes a toast, then you'll down a shot glass's-worth of weak local beer.
Luo is the Legal and Political Committee Chair for the Jingdong Yi Autonomous County in central Yunnan. We met him through our friend Joe Orkin, an anthropologist who has been traveling to Jingdong County for the past few years to study the genetics of the gibbon population that live in the region's mountaintop forests. When Joe first started coming the the area, Luo was the head of the forestry department, but he did such a good job of running the department (and attracting foreign researchers like Joe—and their money), that he was made the head of Jingdong's city planning department. Luo excelled in that role as well, building a large riverside promenade lined with flowering trees and bright neon lights, and when the project was done, he was promoted again, to his current position, in which he oversees the local police department and legal system.
The city of Jingdong itself is quite small. There are just two streetlights in town, and locals' main source of entertainment is a couple of internet cafes where young men go to play video games. Though it's close to both Kunming and Dali as the crow flies, it's not the kind of town that tourists in Yunnan would ever visit, and it's only accessible through narrow, winding mountain roads. It's so remote, in fact, that the day we arrived Luo received reports of "unregistered foreigners" spotted at the ATM machine near a local market. Jingdong does, however, have one real attraction for people like me who are interested in Yunnan's minorities and their foods: in addition to being in the center of Yunnan, it is also in the center of the part of the province that is populated by members of the Yi minority.
The Yi make up the largest minority group in all of Yunnan and the seventh largest of the 55 minority groups living in China. They populate much of central Yunnan, but they have historically been mountain people and are therefore less accessible than groups like the Bai, who populate much of the same part of Yunnan. In all the time I'd spent in Yunnan, I'd never been to a Yi village, and the closest I'd come to meeting any Yi was at the weekly market in Shaxi, where I'd seen some Yi women who had come down into the valley dressed in colorful skirts and coats.
As soon as we arrived in Jingdong (following winding a seven hour drive through central Yunnan), we headed out to try some of the local foods. Our culinary guide was Joe's colleague and friend Zhao Shi-Yuan, an employee of the forestry department who speaks English peppered with colloquialisms and favorite swear words picked up from visiting researchers. Our dinner at Golden Abalone Garden, a large restaurant near the river, exemplified the Yi style of food, which uses simple preparations to cook a wide range of locally available ingredients. There was a plate of salty, thickly slice local ham that was set in a steamer until it was warm and tender; a stir-fry of locally-foraged mushrooms with sliced green chiles; and a simple soup made from the vines and leaves of a squash plant. There were also two dishes that I had never seen before: a plate of sausage made from white rice and pig's blood, which was cut into slices and fried until the edges were crisp, and a plate of deep-fried bees, bee larvae, and mint. Both were surprisingly good, flavorful and crunchy.
At lunch the next day with Luo You-Yong, we had equally simple and equally delicious dishes. There was more ham, this time heated and crisped in a wok; a garlicky stir-fry of squash greens; a plate of cold cucumber salad with wood ear mushrooms, chiles, garlic, and cilantro; a large bowl of rice porridge made with flavorful stock and little bits of pork and vegetables; and an excellent dish of stir-fried pigeon, cut into little pieces and cooked with scallions, soy sauce, and a variety of spices.
In the center of the city, we also ate at a restaurant run by two women of Hui minority descent. They served a number of delicious beef dishes seasoned with ground black cardamom, which is a very popular spice in the Yi region, as well as local dishes like a silky soup made with eggs and cucumbers, stir-fried potato slices with pickles, and a delicious dish of large, tender white beans deep-fried with dried chiles and local pickles until they were crisp on the outside and meltingly tender within.
And lastly, on the way out of town, we stopped at a family-run roadside restaurant for another simple and delicious meal. We had ribs marinated in chile sauce and deep-fried until very crisp; salty ham stir-fried with scallions and mild green chiles; potatoes and green beans with scallions cooked with a light chile and bean sauce; and a dish of orange, yellow, and green summer squash all stir-fried with aromatic ground black cardamom. It was as simple and as perfect a meal as I've ever had.
Photos: Georgia Freedman (5), Josh Wand
✺