May 15th, 2012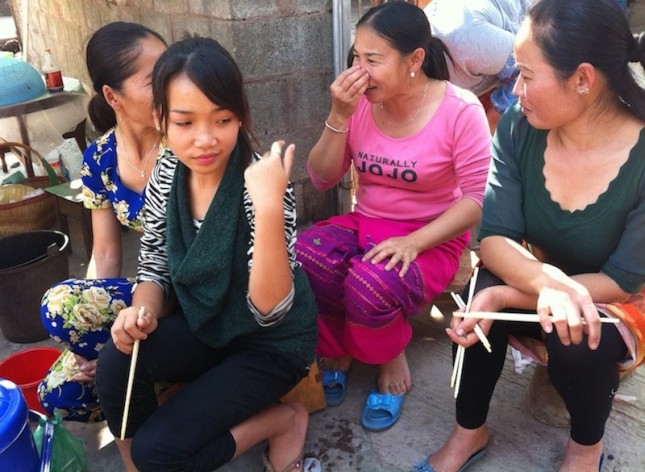 Man'e is about as small as a village can get and still be called a village. It's really just a gathering of a couple dozen houses clustered together, cheek to jowl, between the tall spindly trees of a rubber plantation and the lush, green vegetation of a banana farm. There are no schools or businesses of any note in Man'e—most of the residents work in the surrounding fields or bike the 10 minutes to the larger town of Menglun, which is also where the local kids attend grammar school.
In the afternoons, Man'e can seem like a place where nothing really happens, especially in the winter, when the rubber trees aren't excreting sap. The older women of the village gather at the edge of the main road, sitting in the shade of their one tiny store (which sells a variety of bottled drinks and snacks and also houses a communal telephone) to chat with their friends while waiting for various fruit sellers and other vendors who travel to the local villages selling their wares from the backs of trucks. The men, meanwhile, gather along the other side of the small road, just opposite, in a wooden pavilion, and just hang out and rest during the hottest parts of the day.
On my first day in Man'e, I came upon another small group, a gathering of the younger women of the village, who had met up alongside one of their houses to pass the time sharing an afternoon snack. They'd pulled out a handful of low plastic stools and sat around a large bowl of something green and bright which they occasionally reached into with chopsticks. "It's papaya," Mi Zhuang told me as we stopped to say hi. "Do you know this food? Do you want to try it?" Before I really had a chance to answer, one of the younger women grabbed a clean pair of chopsticks and popped some into my mouth. It was like the familiar Thai green papaya salad I'd had before but without the deep umami undertones of fish sauce, just lime and chile and salt. It was bright and spicy and refreshing, the perfect food for a hot afternoon.
"Do you like it?" they all asked, and when I nodded my head, my mouth still full of the wonderful salad, Mi Zhuang offered to teach me to make it the next day. When I arrived at her kitchen, however, there were no papayas, green or otherwise, in sight. Instead, she had set out a long, thick piece of celetus. "We'll just make the dish with this," she explained. "It's the same thing. You could even make it with cucumber." Quickly, she showed me how to peel the celetus stalk and shred it, then dress it simply with chiles, salt, cilantro, and lime juice. In just a couple of minutes, the salad was ready. I found some chopsticks and took a bite. The celetus had a little less tartness than the papaya, but it also boasted a lovely silky texture and the combination of the lime and salt gave it the original's characteristic zing. We let the mixture sit a while, so that the flavors would meld together, then ate it as an accompaniment to sweet pineapple sticky rice and simply grilled pork.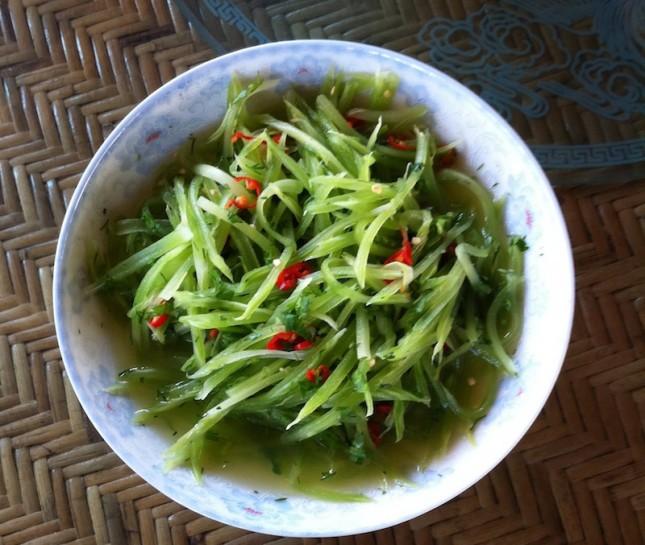 Recipe: Celtus in the Style of Green Papaya Salad
Photos: Georgia Freedman (2)
✺