February 26th, 2012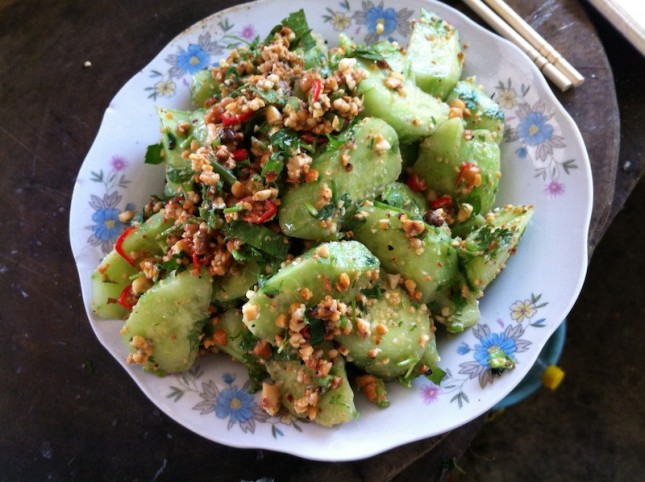 In every part of China I've been to I've had fresh cucumber dressed in some combination of oils, aromatics, vinegars, or herbs. Every version is delicious, but this bright, citrusy variation from Xishuangbanna might be the best. It was the first dish Mi Zhuang, the cook at Red Bean Garden Fish Farmstead restaurant in Man'e, showed me how to make on my trip to visit her, and I spent the whole rest of our cooking lesson waiting to eat it.
In this dish, and in most dishes she makes, Mi Zhuang uses a combination of fresh herbs that includes regular cilantro, sawtooth coriander (which has long, arugula-like leaves), and yan xin, which looks like a lacier version of cilantro, along with sliced xiao mi la, a small chile. Using regular cilantro and a Thai or birds eye chile will produce almost exactly the same flavors.
Cucumber with Herbs and Peanuts
1/3 cup roasted, unsalted peanuts (you can roast them yourself in a wok without oil and with their red skins on; allow to fully cool before proceeding with the recipe)
2 long cucumbers, preferably bumpy-skinned Chinese cucumbers or thin English cucumber
1-2 sprigs each cilantro, sawtooth coriander, and yan xin, or small handful cilantro
1-2 xiao mi la chiles (or Thai or birds eye chiles), depending on desired spiciness
1/2-3/4 tsp salt
4 tbsp lime juice (optional)
1. Rub and massage peanuts to remove as much of the red skins as possible. Crush peanuts with a mortar and pestle (or chop and smash with a large knife) until most of the nuts are crushed.
2. Using a vegetable peeler, skin cucumbers. Cut into large, triangle-like chunks by making angled cuts and turning cucumbers approximately 45 degrees between each cut.
3. Finely chop herbs and thinly slice chile. In a mixing bowl, add herbs, chile, salt, and crushed peanuts to cucumber slices and stir to mix.
4. Just before serving, add lime juice if you like and toss all together to combine. Taste and adjust seasonings as needed.
Photo: Georgia Freedman
✺