June 15th, 2012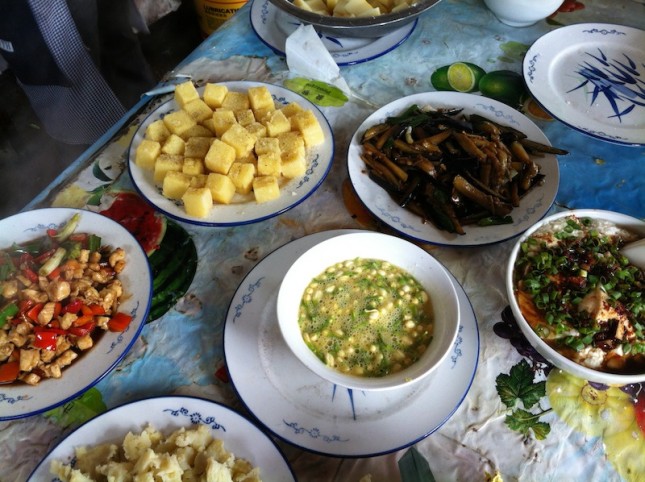 A few weeks ago, our friends Doug and Sophie, two biologists working here in Kunming, invited us to do something we'd been wanting to do since we moved to Kunming—climb the Western Hills. The Western Hills, situated down in the city's southwest, along the edge of Dianchi Lake, are a popular escape for locals, a way of getting away from the traffic of the city without having to actually leave Kunming. We'd been meaning to go and hike up the hills for months, but every time we set aside the time to do it, we'd been stopped by rain or high winds or just by our work schedules.
Early on a sunny Sunday morning we met up with Doug and Sophie and two PhD students from Yunnan University who were planning, along with Sophie, to collect butterflies in the hills, and crowded into their car. After a twenty-minute drive, we arrived at the bottom of the "hills," found a place to park the car, and started hiking up a road that runs along the back side of one of the peaks.
The morning was clear and not too hot, and we were joined on our walk by large families and groups of friends who were also taking advantage of the good weather, including many women who were making the long, steep climb decked out in frilly dresses and impressively high heels. The hills are primarily rural, and we passed a few orchards and farms on our way up, as well as some wild-growing cherry trees. We nibbled on the sweet fruit a bit as we climbed, but each cherry was only about  a quarter the size of a blueberry, and we were quite hungry by the time we reach the top of the mountain.
As if on cue, a old woman appeared at the top of the road to try to divert us to her friend's nearby restaurant. We didn't need much convincing, and within a couple of minutes she had led us down a small slope to a rustic open-air restaurant with a large courtyard in the middle. The Chinese nationals among us took charge of ordering, and I talked my way back into the restaurant's bright little kitchen to watch the cooks work. They made stir-fried eggplant, a chicken dish reminiscent of kung pow, soft dou hua tofu topped with a spicy-numbing sauce of sichuan peppercorns, deep-fried pieces of yellow mung bean curd, and a variety of other dishes. But the one that stuck out the most, to me at least, was a simple dish of scrambled eggs and jasmine flowers which was served as a kind of pancake. The flavor was subtle and delightful, the umami of the eggs themselves almost as strong as that of the blossoms. I fell in love with the dish immediately, not only because I have loved jasime for as long as I can remember but also because here, finally, was a Yunnanese flower dish I could actually make in the US.
Recipe: Stir-Fried Eggs with Jasmine Flowers
Photos: Georgia Freedman (2), Josh Wand (1), Georgia Freedman (2)
✺