June 2nd, 2011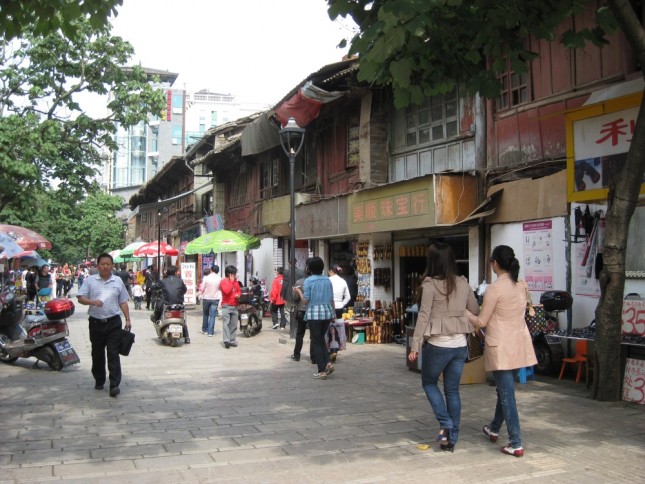 I first heard about Kunming in a textbook. I was studying Mandarin at Columbia, and our lessons followed the story of two students, David and Helen, and their adventures studying and working in China and Taiwan.  Halfway through, the character of David, or "Dawei," has a break in his studies, and decides to travel to Kunming, the capital city of Yunnan province, in China's southwest. The book described the city as surrounded by beautiful landscapes with thousands of purple and red flowers that never wither and spring-like weather all year round; David thinks that if he didn't have to get back to his classes, he might never leave.
The following summer, when my friend Cassie and I found ourselves studying in Beijing and looking for somewhere to go for our own semester break, we too headed for Kunming.  After the heat and frenzy of Beijing in July, it seemed like heaven. The weather was, in fact, spring-like, with warm, humidity-free days and clear, cool nights, and the city was beautiful and quaint, with peaceful temples, beautiful old wooden buildings, and a bird and flower market with a captivating assortment of exotic birds and animals for sale. Life there was even calmer and quieter than in other parts of China; one afternoon we sat out a rain shower in Cui Hu ("Green Lake") park reading and drinking tea without seeing another soul walk by. It was idyllic.
I left China very reluctantly at the end of that summer, and I've always dreamed of getting back and really staying for a long time. I visited for work and vacation a few times in the following years, exploring Beijing, Shanghai, Hong Kong, and the beautiful towns of Suzhou and Yangshuo, but the week or two I had to spend was never enough. And Kunming, the city of perpetual spring, was always on my mind. "I'd like to live in Kunming for a while someday," I even told my friend Ariana a few years ago, when we were reporting a story in Suzhou for Saveur magazine, where I was an editor. "Really?" she said, "my husband and I are moving there in a few months. But it might not be the way you remember it. The city's grown a lot."
She was right. Even before I landed at Kunming airport on a trip to visit her the following year, I could see that the city I remembered was gone, eaten up by the same kind of giant, pulsing, neon-filled and mall-happy metropolis that has taken over almost every city in China in the past couple of decades. The population had grown from five to seven million and, more notably, a majority of the buildings in the city had been torn down and replaced by newer, larger, glassier and gaudier structures. And yet, as I walked around downtown, visiting the park Cassie and I had loved and exploring what was left of the old neighborhoods, I realized that the city had held onto some of its old charm and, for all its modern brassiness, it was still smaller, quieter, and calmer than most cities in China. It might no longer have been the city of my dreams, but it was still a lovely place to be.
So a few months ago, when life conspired to shake things up with a health scare, a career change, and an unusual job opportunity for Josh that would allow us to relocate to anywhere we wanted to be, my thoughts turned back to Kunming. When else would we have the opportunity to actually make good on that promise we'd made to ourselves? So a couple weeks ago we headed to Kunming again, this time with our two cats and six bags of clothing, books, and cookware in tow. We're not sure how long we'll stay, or if we'll spend a few months in Kunming and then move on to wilder, more distant places, but we're excited for the adventure.
Photos from top: Georgia Freedman; Josh Wand; Georgia Freedman
✺