February 4th, 2016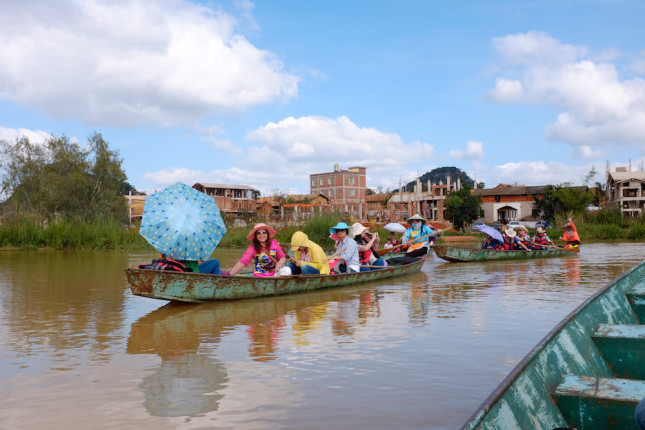 Sometimes traveling in China feels unnervingly like going to Epcot. But instead of going to a theme park representing famous sights, you find yourself at famous sights that have been turned into theme park versions of themselves. You arrive at some spot known for its beautiful landscapes or its unique minority culture, and you are greeted by a huge ticket gate next to an enormous parking lot full of tour buses. Inside, there are rows of stands selling snacks, hats, cheaply-made versions of local minority costumes, "handicrafts," and all kinds of other things that Chinese tourists apparently like. And it's not just the actual sights themselves; whole villages and towns can end up inside these "scenic districts." Just going to see how locals live can involve paying an entrance fee. For residents, I imagine it must feel like living inside a museum crossed with a fair.
In Yunnan's most famous tourist spots, the transformation from beautiful town to postcard-ready copy of itself is literal: whole streets of old buildings are torn down and rebuilt in the same style as the old versions—but with more ornate carved screens or painted woodwork or whatever the trend of the moment happens to be. In Dali and Lijiang, many of these buildings then become bars, restaurants, and shops catering to tourists. There's lots of karaoke and lots of banana pancakes.
This is not what I was expecting to find when we traveled to Puzhehei a year ago. After all, American travel guides don't even list the spot. I had found it by looking at the itineraries of some small, local travel companies and then doing my own research. And even then information was sparse. I knew it was supposed to be a beautiful part of the province with a lake and the kind of karst mountain formations you usually find in the neighboring province of Guangxi. Beyond that, I really had no idea what to expect. But given that the area is in the remote Wenshan Zhuang and Miao Autonomous Prefecture, in southeastern Yunnan, I assumed it would still be fairly rural.
Wenshan county home to a large Zhuang minority. The Zhuang make up China's largest minority group, and they settled what is now Guangxi and Guangdong as early as the Paleolithic era. Centuries later they migrated south, splitting into the Lao, Thai, and Shan ethnic groups and spreading out across Southeast Asia. But many Zhuang still live in this part of China. The area is also home to Dai, Buyang, Lachi, Gelao, Qabiao, Yao, Yi, Bai, Bolyu, and Bugan minority groups, and to Miao communities (as the name of the province indicates).
When we arrived, we headed to Qiubei City, just outside of the Puzhehei "scenic district," where we found a small business hotel. The town looked like any other rural city, full of hastily erected four-story concrete buildings and populated by the kinds banks, mechanics, and home goods shops that farmers come into town to find. At a crowded wet market in the center of town, vendors sold freshly foraged ginseng roots, massive dried mushrooms, piles of two-foot-long daikon radishes, and foraged greens I'd never seen in other parts of China. And after breakfast the next morning, we stumbled onto a large covered courtyard where whole families, from grandmothers to little kids, were sorting and de-stemming huge mounds of bright red chile peppers. It turns out that Qiubei County exports more than 5 million tons of chiles, which end up in other parts of China, and in Japan, South Korea, and even the U.S.
❦
It wasn't until we arrived at the entrance to the scenic area, and I saw the ticket counters, the buses, and the huge groups of tourists, that I realized the place was not what I had expected it to be. Beyond the gates, down paths lined with knick-knack vendors (and clearly marked bathrooms) we found metal stanchions, linked with chains, set up to funnel visitors through turnstiles and into a fleet of metal rowboats that were waiting take visitors out onto the lake. Beyond them were bright red canopies shading rows and rows of picnic tables and dozens of food vendors who were grilling skewers of tiny fish, tofu, and making dishes like stir-fried snails with chiles and deep-fried grasshoppers.
Even on the off-season, the lines to get onto the rowboats were overflowing with Chinese tourists. The women sported colorful ethnic dresses meant to evoke the vibrancy of the local minorities' traditional embroidered clothes with wide, frilly hats to match. The men wore the polo shirts and slacks that make up the uniform of China's upper middle class, and many sported large cowboy hats that they had purchased at the park's souvenir stands.
As soon as we were on the water, however, Puzhehei looked different. The other tourists' boats floated away from us, and we were left mostly alone to look out at the beautiful karst landscape. The lake—which spreads out through a network of mountainous islands, isthmuses, and wetlands—was calm and glassy and reflected every detail of the landscape and the sky above us.
The most popular time to visit, we were told, is early summer, when lotuses are in bloom all across the lake. Then the park takes on a carnival atmosphere. Hundreds of boats take to the lake at a time, and visitors spend the ride trying to get their friends as wet as possible, splashing and shooting each other with water cannons. But in September the weather was too cool to make the idea of getting wet much fun (though a handful of 20-something guys in a boat in front of us certainly tried to get people around them interested in joining a water war, and were clearly disappointed to be missing out on the summer fun).
Another major part of the lake fun is the food. Local vendors set up grills on narrow row boats and provide a floating picnic. Even on a relatively quiet day they were still doing brisk business selling skewered meats and fish and freshly cut fruit. The seafood, I was assured, was all caught in the lake itself, and along the edges of the lake we often saw villagers fishing or gathering lotus roots or leaves to make local specialties.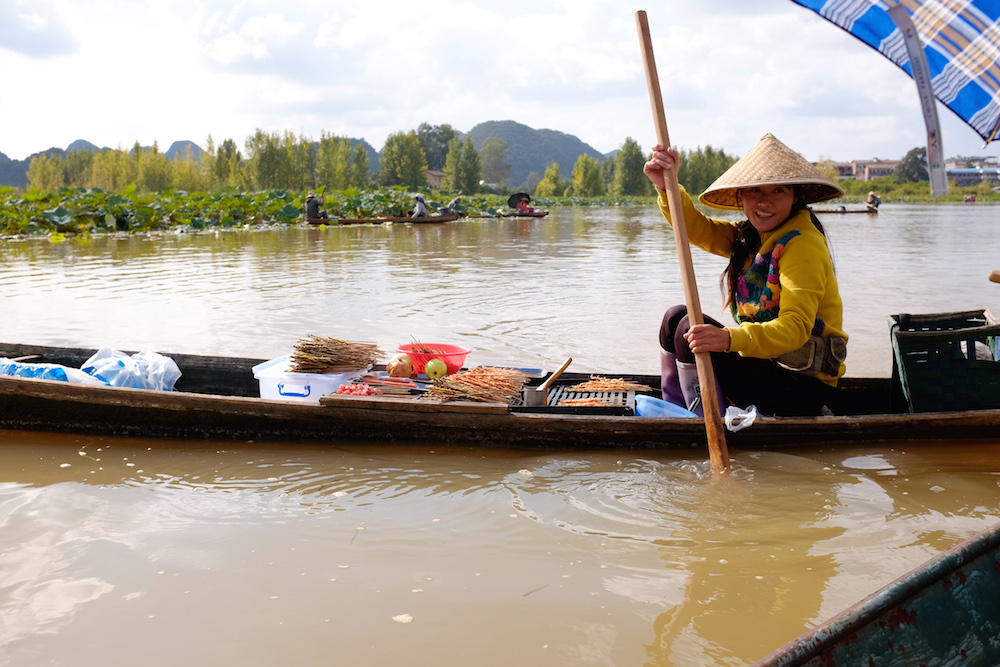 Instead of snacking on the river, we opted to look for a real restaurant where we could try a variety of local dishes. Back on land, we found a horse cart (a whole bunch of them were lined up by the entrance gate, waiting for tourists), and asked the driver to take use somewhere we could try local dishes. He drove us away from the water, through orchards of bare-branched peach trees with snaking squash plants growing beneath them and dropped us at the entrance of a small restaurant and inn.
Inside, a cheerful woman with a baby on her back introduced herself as Mrs. Sun and welcomed us into her kitchen, where she chatted with us while cooking up a quick lunch. Everything came from the lake: There were bright red crawfish stir-fried with ginger, scallions, and a sprinkling of Sichuan peppercorns; slices of tender white lotus root that were quickly fried with slivers of garlic; nutty lotus seeds paired with slices of pork; and even lotus leaves, which were thinly sliced and then fried up with egg until they were sizzling and golden. As each dish was done, Mrs. Sun's eight-year-old daughter would whisk it outside to a table under an arbor, where we sat and ate and sipped tea in the sun.
On the way back to the park's entrance, we took another route, away from the food vendors and the souvenir stands. Most of the park, I was happy to see, was made up of quiet little establishments. All along the banks of the river I could see small inns and tiny restaurants with balconies looking out over the water. Each one looked like somewhere I'd want to come back to to eat and sip tea and spend an afternoon.
Suddenly I found myself hoping we'd be back. And next time, I'd actually plan to spend a few days within the park itself, hanging out with the local cooks, playing card games, and maybe even joining Chinese tourists for water wars and karaoke. Because it's true—Puzhehei is beautiful. And if it doesn't feel like an authentic version of itself, whatever that would have been a decade ago, it's certainly an authentic part of the new China. And these days, maybe that's really all I can ask for.
✺