September 18th, 2011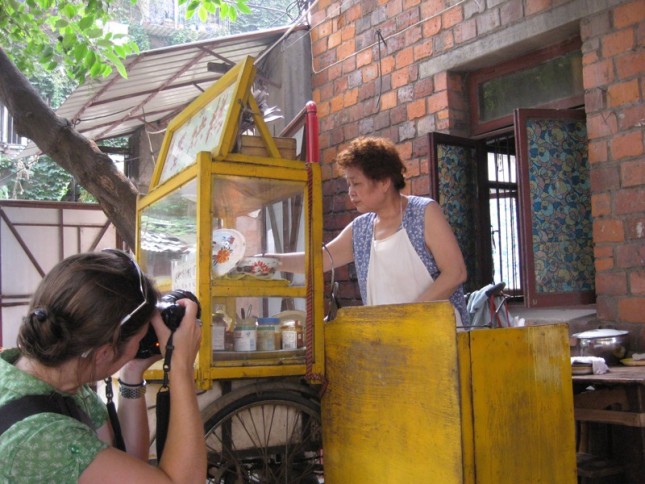 To be perfectly honest, I'd never really wanted to go to Chengdu. Everything I'd read about the capital of Sichuan Province—about the heat and the humidity and the scalding hot food meant to help you cool down in by helping you sweat—gave me the impression that Chengdu was some kind of cursed place, a combination of a construction and smog-filled Chinese city and the gates of a fiery hell. Even my growing love for Sichuanese food, which I'd had in both New York and Hong Kong, couldn't seem to change my mind.
But then my friend Ari asked me if I wanted to go to Chengdu with her while she shot a story for Saveur. In August. And while it might not seem like the hottest weeks of summer would be a good time to finally see the city for myself, I love traveling with Ari, and I trust her travel experience in China, so off I went.
To my surprise, I fell head over heels in love with the city. Yes, it is hot, particularly in August. But the sun is mitigated by a thick haze of humidity, and the heat doesn't stop anyone from enjoying themselves. In fact, Chengdu is one of the most fun, friendly places I've ever visited. Locals spend their afternoons sitting in parks and temples drinking tea and chatting with their friends and the evenings at restaurants that spill tables out onto the surrounding sidewalks. Everywhere I went, people invited me to join them. In Renmin Park, men and women of all ages invited me to dance with them. At Qingyang Temple, old women motioned for me to sit down with them and helped me order tea at the canteen. At a restaurant on Beishuyuan street, one of the only streets in the city that has yet to be torn down and modernized, teenage girls fed me bites of their own food, fishing out the best bits of crayfish tails and snails and popping them into my mouth.
By the time I left the city at the end of the week, I was smitten. I even started looking at apartment prices in the windows of real estate offices. Who knows? Once our year-long lease in Kunming is up, we might just find ourselves headed northeast to the city of warm weather and even warmer people.
Some highlights:
Photos: Georgia Freedman

✺