July 7th, 2011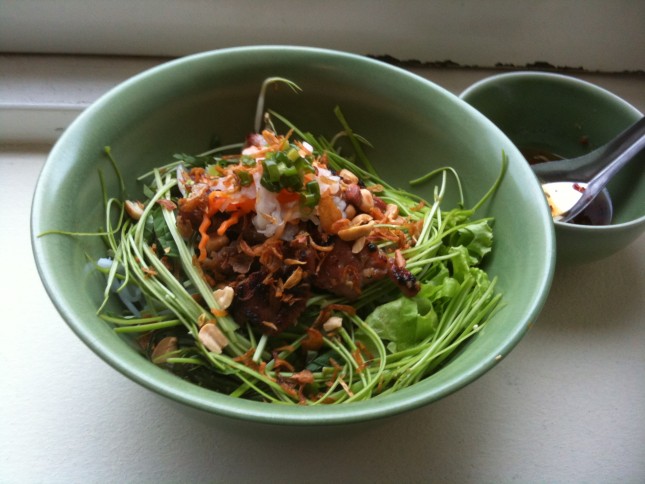 After a wonderful week visiting my friends Sita and Tsering in Saigon, I'm craving the lightness and freshness of Vietnamese food. As soon as I can find a place to buy proper fish sauce (a difficult task in Kunming), I will make this version of Bun Thit Nuong, which I learned from a chef at the beautiful restaurant Hoa Tuc. This variation on the classic dish of rice noodles with grilled pork and fresh herbs substitutes Chinese watercress for the usual cucumber and the juice of Vietnamese kumquats, which taste like tangerines, for the lime.
Bun Thit Nuong – Fresh Rice Noodles with Grilled Pork and Raw Vegetables
Serves 4
Pickle Topping:
1 cup water
3 tbsp rice vinegar
1 ½ tbsp sugar
1 tsp salt
1 carrot, peeled and julienned
4 inch-long daikon, peeled and julienned
Dressing:
8 tbsp juice from green-skinned Vietnamese kumquats or tangerines
8 tbsp water
6 tbsp sugar
8 tsp Vietnamese fish sauce
4 tsp chopped garlic
4 tsp chopped chile (medium-spicy)
Marinade:
2 stems lemongrass
3 tbsp honey
2 tbsp canola oil
4 tsp Vietnamese fish sauce
2 tsp chopped garlic
2 tsp chopped shallot
½ tsp ground pepper
Bun:
9 oz fresh pork belly with fat removed, thinly sliced
2 spring onions, thinly sliced
8 tbsp canola oil
1 shallot, thinly sliced
14 oz fresh rice noodles (or dried "rice sticks," blanched)
1.5 oz water spinach stems, leaves and side stems removed
16 leaves fresh mint (preferably Vietnamese lemon mint)
16 leaves Vietnamese basil (or 8 leaves regular basil)
8 leaves mild lettuce
8 leaves Japanese shiso
1.5 oz bean sprouts
1.5 oz peanuts, chopped
1. Make Pickle: Mix water, vinegar, sugar, and salt together until sugar and salt dissolve, then immerse carrots and daikon and allow to pickle for 30-40 mins.
2. Make dressing: Mix all ingredients together and allow flavors to meld together.
3. Make Marinade: Remove root and green leaves of lemongrass so only tender, white center remains; chop finely. Mix with remaining ingredients and stir well until thoroughly combined.
4. Marinate pork belly slices in honey and lemongrass mixture for 15-20 mins. While marinating, place spring onion in a small bowl. Heat 4 tbsp oil until hot and pour over onions to create a flavored oil. Set aside and allow to cool.
5. Heat remaining 4 tbsp oil until it is hot enough that a wooden chopstick inserted into the oil will release a steady stream of air bubbles. Fry sliced shallots until golden and crisp, then remove from oil and set aside on a paper towel to drain.
6. Julienne water spinach stems. (If you can find one, a Vietnamese "splitter knife," a thin metal dowel with a circle of small blades at one end, will make this process much easier.)
7. Julienne mint, basil, lettuce, and shiso leaves.
8. When the pork has finished marinating, grill it over an open flame until cooked through and slightly charred, using wet bamboo skewers or a metal fish grilling basket to control the slices.
9. Assemble the bun: Divide the rice noodles among three bowls and top with equal portions of the lettuce, herbs, and bean sprouts.  Top noodles with pork and garnish with carrot-daikon pickle, spring onions in oil, peanuts, and fried shallots.
To serve: allow the diners to dress their noodles with ¼ of the dressing each and to mix the ingredients together in their bowls.
Photos: Georgia Freedman
✺